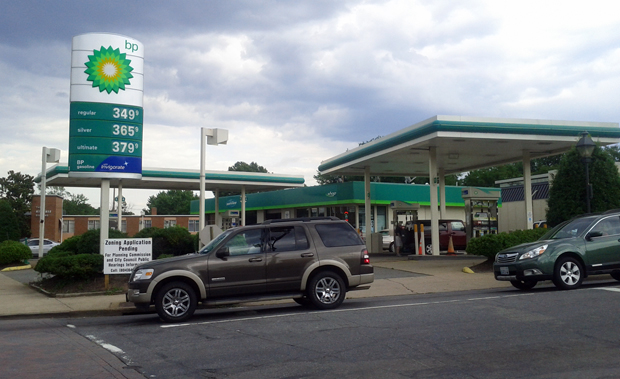 A developer's plans for a controversial mixed-use project in the popular Libbie and Grove shopping district are officially dead at least for the near future.
CBRE broker and developer Scott Boyers on Monday formally withdrew his plan to build a four-story, 110,000-square-foot mixed-used project at the corner of Libbie and Grove avenues. Boyers this summer encountered pushback from neighborhood residents and businesses.
Boyers said Monday that he asked Richmond's planning office to withdraw his special-use permit application for the proposed project at 5711 Grove Ave.
"We still like the property," Boyers said. "We think it's one of the best pieces of property in Richmond, and it deserves better than what is there now."
BizSense first reported in June on the project, which was to include a retail strip, a parking deck and 22 apartments on the site of what is now a BP gas station.
The news sparked a howl of protest from some residents and businesses, while others said the development would draw more foot traffic for the neighborhood stores.
"I still think that was a good plan, but it just doesn't look like it's possible," Boyers said Monday.
Richmond City Councilman Bruce Tyler announced on his website Sept. 2 that he had met with Boyers, who had agreed to not go forward with the development.
Boyers said that, although he is withdrawing the permit, he is not giving up on the property.
"We plan to close on the property, and it will remain a BP station for right now," Boyers said. "If we do go forward with a development, my investors and I agreed it will be something closer to what we can do [under current zoning]."
Boyers would not discuss when he might close on the property or what the purchase price would be. The property, at 5711 Grove Ave., was most recently assessed by the city at $480,000.
Boyers said he could make the numbers work on a retail strip at the site, the kind that lines the Libbie and Grove corridor now, and still provide plenty of parking.
The BP gas station, owned by Woodfin Heating Inc., will likely stay put until the economy is in good enough shape to support a new retail strip, Boyers said.