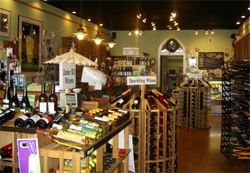 A 14-year-old Carytown wine store is shutting its doors and making way for its neighboring wine bar to expand.
Julia Battaglini announced Monday that she is winding down operations of River City Cellars this week and will soon begin using the shop as an event space for Secco Wine Bar, which she also owns.
Battaglini broke the news to her customers in an email.
"Retail is never easy and this last year has been particularly difficult–I am hardly alone in this," Battaglini wrote.
Despite shutting down the shop at 2931 W. Cary St., Battaglini said there would be no fire sale.
"There won't be gaudy signs or deeply discounted sales, just a fair amount of unapologetic champagne consumption and bawdy reminiscing," she wrote.
But, she adds, there will be no handwringing or second-guessing allowed about her decision.
"I SWEAR I will punch anyone in the throat who cries or offers armchair quarterback business assessments," she wrote in the email. "Seriously. Let's focus on the awesome."
River City Cellars opened in 1998. It's at least the third local wine shop to close in the area in the past year.
Wine and Beer Westpark in the Westpark Shopping Center on West Broad Street closed in January. Barrel Thief closed its Short Pump location in July.