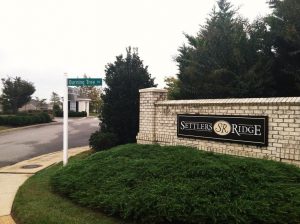 A large piece of an eastern Henrico housing development that caters to seniors went to foreclosure Wednesday.
Forty lots at Settler's Ridge, a partially built neighborhood in Varina that targets adults 55 and older with promises of maintenance-free living, were up for auction Wednesday at the Henrico County courthouse.
Foreclosure was initiated after Settler's Ridge LLC, which owned the vacant 40 lots, defaulted on a $2.1 million loan that it originally borrowed from Gateway Bank, now part of Bank of Hampton Roads.
There were no bidders for the lots at the auction, according to Steve Scarce, an attorney with Parker, Pollard, Wilton and Peaden who acted as substitute trustee for the foreclosure. The lots went back to the bank.
According to the development's website, homes at Settler's Ridge are built by Hamlin Homes.
Settler's Ridge LLC's address is next door to Hamlin's office on Mayland Court in Henrico. Its registered agent is Alan Braun, president of Hamlin Homes.
Reached by phone Tuesday, Braun said that his company has lots at Settler's Ridge but that the 40 up for auction were not his.
"I have lots there, but mine are current," Braun said.
He wouldn't comment further on the development and did not return a message left Wednesday.
Teresa Duncan, a real estate agent with Long and Foster who has the listings on several lots at Settler's Ridge, said the development began sometime around 2004.
Although the neighborhood is dotted with unbuilt lots, several dozen houses have been constructed and are occupied. The development also has a clubhouse.
A total of around 148 homes are planned for the neighborhood, which sits at the intersection of South Laburnum Avenue and Burning Tree Road, and are to be built in three phases.