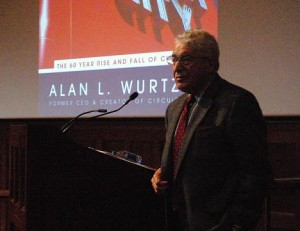 When former Circuit City chief executive Alan Wurtzel saw the electronics giant losing ground to Best Buy and Amazon in the early 2000s, he knew the company his father built was in trouble.
But he said he couldn't do anything to stop it.
"After I left, my successors became very focused on the bottom line ? the profit margin," Wurtzel told a group at the University of Richmond on Wednesday evening as part of the Robins Executive Speaker Series. "They were too focused on Wall Street. That was the beginning of the end."
After getting his start as a delivery boy for his father's TV store in the 1950s, Wurtzel rose to the top as the company's CEO during its heyday through the 1980s and as chairman through the early 90s. When he retired as chief executive in 1986, Circuit City sales totaled more than $1 billion annually.
But Wurtzel said the model that led to such high earnings during his time at the company didn't translate to the 21st century.
He said customers outgrew the need for a salesperson to greet them at the door and give them advice about what TV to buy. The personalized service was a Circuit City trademark that was basically replaced by the Internet, Wurtzel said.
The company also refused to sell items such as video games because they had a low profit margin, he added.
"We systematically positioned ourselves for the older market and excluded the younger generation," Wurtzel said. "Best Buy was happily catering to that market."
The company announced mass layoffs and pay cuts in 2008, but Wurtzel said that by that time it was too late. Circuit City closed its doors for good in a colossal bankruptcy in 2009, leaving hundreds of empty storefronts across the country and its massive headquarters complex in Glen Allen vacant.
Wurtzel, who now lives in the Washington area, has chronicled the rise and fall of Circuit City in his new book, "Good to Great to Gone," which comes out this month.
"I wanted to understand what happened to Circuit City," Wurtzel said. "I was present at the creation, and I saw it through to the end. I wanted to present an unbiased, objective view."
Wurtzel said there business owners should learn a few things from the story. It's important to be humble and curious and to always assume there's someone behind you working faster and smarter, he said.
"There's no exact formula for a good strategic plan, but there are certain habits of mind that can influence success," he said. "That's what I want everyone to take away from the Circuit City story.