For one local company, scrap metal is a hot commodity.
River City Recycling, which buys, processes and sells scrap metal, last week opened a 25,000-square-foot warehouse in Manchester. It's the third location the young company has opened in the past 10 months.
The new location at 1104 Gordon Ave. gives people a place to drop off aluminum cans, old appliances, pipes and anything else that can be melted down and refurbished.
"Fifteen years ago, all of this would have been in a landfill," said Marty Williams, a consultant for the company. "Now landfill space is at such a premium, you really have to reserve it for materials that absolutely cannot be recycled."
Owned by Mathew Appelget, the company has expanded twice since it opened in January to accommodate the high volume of material coming in. Since the Manchester location opened Oct. 8, it has collected about 2,000 pounds of scrap metal.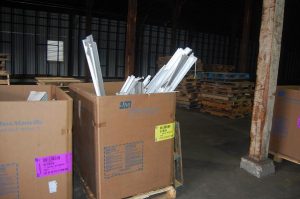 The company's other locations ? one downtown and one in Chesterfield ? process an average of about 30,000 pounds of scrap metal per month. Williams said that the first two plants specialize in old auto parts and whole cars but that the Manchester plant would focus on walk-up business.
"Someone could literally walk up with a grocery cart filled with cans they picked up off the street, and that's a service to our business," Williams said. "We have a 'one man's trash is another man's treasure' mentality."
River City Recycling pays for metal by the pound. A pound usually brings in between 14 cents and $1.50. Prices vary from week to week, depending on recommendations from the American Metal Market, said sales director Kelly Stoker.
"We're really buying these materials at a premium," Stoker said. "The idea is that you come to one of our locations, drop off what you have and be out the door with your payment in 10 minutes."
The company, which employs about 30 people, melts down the metal and sells it to companies for industrial uses, such construction.
"We're saving natural resources and giving people an incentive to clean up their surroundings," Stoker said.