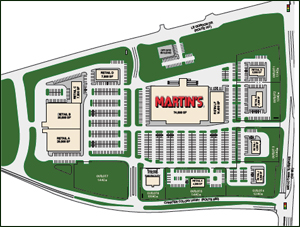 A South Carolina developer plans to break ground next year on a shopping center in Chesterfield that will likely be anchored by the first new local Martin's store since the grocery chain entered the Richmond market almost three years ago.
Edens, which also owns the Town Center at Twin Hickory in Glen Allen, is planning more than 100,000 square feet of retail construction on 33 acres at the intersection of Charter Colony and Midlothian Turnpike.
Edens development manager Reynolds Allen said the company plans to begin construction by the middle of next year and have the center open by early 2014.
BizSense reported in June that the grocery chain had signed a letter of intent for the site — a nonbinding agreement – and Martin's regional vice president Jim Scanlon said the deal with Edens is not yet inked.
The planned 74,000-square-foot Martin's would be surrounded by six outparcels one of which would be a Martin's gas station and 15,000 additional square feet of retail in first phase of the shopping center's development. That amounts to half of the new construction for the Charter Colony site; the rest will be developed in a planned second phase.
"We will be looking to attract local restaurants with outdoor seating," Allen said. "We want the neighbors to feel like this is a place where they can spend a lot of time."
Edens purchased the site in 2005 for $10 million and has been trying to develop it ever since.
"We've had several plans for the site, none of which came to fruition, and certainly the economy played a part in that," Allen said. "But we've always believed it was a great site for a grocery-anchored shopping center. It has great access to both the main road and the surrounding neighborhoods."
Allen said the work on the site will likely be bid out to local contractors.