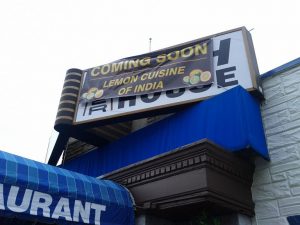 The longtime home of the former Byram's Lobster House is being transformed yet again.
Lemon Cuisine of India, an upscale Indian restaurant, is slated to open in November at 3215 W. Broad St., owner Gurjeet Singh said.
When Byram's closed in January after 70 years in business, new owners quickly reopened the 7,000-square-foot restaurant as Tower Fish House. That incarnation lasted barely a month.
Now Singh and Lemon Cuisine are making a go of it.
"It's going to be fine dining," Singh said. "We're not going to do a buffet. It's going to all be made fresh."
Singh, who worked previously at Anokha Indian Cuisine in Glen Allen, said most entrees on the diner menu would range from $11 to $16. Lemon Cuisine will have a separate lunch menu, Singh said, where diners can expect soup or a salad, an entree, bread, rice and dessert for about $9.
Singh said the interior has an event hall that he'll rent out for parties and receptions. Most of the build-out, he said, is going into the bar, which he's paying for with personal savings.
The restaurant will have a full bar with cocktails, wine and beer, including some Indian beers.
Gus Nikiforos, who previously owned and ran Byram's, still owns the property. Raffi Bandazian of commercial real estate firm Bandazian & Holden handled the lease.
According to Richmond Magazine, Gurjeet Singh will get some help managing the restaurant from partner Harvinder Singh.