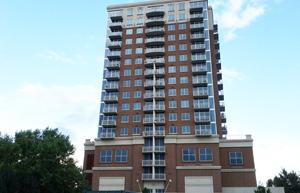 The developers of a riverfront condo building say that a suit filed last month alleging shoddy construction should be tossed out.
An entity set up by the original developer of the Vistas on the James project near East Canal and 14th streets responded to a suit filed against it by residents of the 168-unit building.
Vistas on the James LLC filed a motion Oct. 16 in Richmond Circuit Court saying that the case should be dismissed because the plaintiff, Vistas on the James COA, allegedly did not include the necessary documentation in its lawsuit to warrant consideration by the court.
The LLC was established by the Daniel Corp., an Alabama company that developed the 18-story, $47 million building.
The Vistas on the James condo owners association claimed in a lawsuit filed Sept. 24 that the developers poorly designed and constructed the building, alleging issues such as rusty and unstable balcony railings and bad plumbing.
The LLC, represented by Virginia Beach attorney George Dancigers, picked apart claims that condo owners brought the issues to the developers' attention six months before filing the lawsuit, noting that certain supporting documentation was not attached to the lawsuit.
In the initial suit, the condo owners association said the developer had eschewed responsibility for the alleged structural defects. In its response, the developer noted that the owners had neither quoted those discussions verbatim nor attached documentation proving the developer had shrugged off their concerns.
In short, the LLC says it can't properly respond to claims that aren't properly presented.
Dancigers, reached by telephone, said he wasn't authorized by his client to comment on the lawsuit.
The condo association's attorney Andrew Elmore, a lawyer with Chadwick, Washington, Moriarty, Elmore and Bunn, said that, in his view, the motion is "completely without merit."
"I've contacted opposing counsel and I think we can resolve this motion outside of court," he said.
Elmore said his invitation to resolve the substance of the motion outside of court had not been responded to yet.
Vistas on the James was developed by the Daniel Corp. in 2005 and was completed in 2007. Andy Andrews and Michael Campbell were the lead developers but split off from the company and formed Dominion Realty Partners while the building was under construction.
Dominion Realty, which also developed the Residences at the Hotel John Marshall and the 188-apartment Manchester Place at Ninth Street and Semmes Avenue, lists Vistas on the James in its portfolio.
In October, Elmore said that the owners had "consulted with professional engineers and counsel and has a clear and convincing argument that there are structural defects to the building."