In the year since Tony Ammendolia opened Original Gravity, a home brewing supply shop on Lakeside Avenue, the local craft beer scene has taken off.
Ammendolia, 42, who attended VCU and most recently worked at Whole Foods and Elwood Thompson's, opened his store after years of making his own beer and finding only one place in Richmond, out on the Southside, to get supplies.
BizSense checked in with Ammendolia to find out how his store's first year was and what the local beer boom has meant for his business.
Below is an edited transcript.
Richmond BizSense: How was the first year for Original Gravity?
Tony Ammendolia: Business has been great. I wrote my business plan and knew in my heart I could do more than what was in the plan. I've exceeded my plan by far.
RBS: How big is Richmond's home-brewer market? Was there a way to gauge the size before you took the leap?
TA: I looked at the population of Richmond and had some figures from the American Home Brewers Association that gave me an idea of how many home brewers there are. The math looked like it would work out. And it was looking good for Richmond even with another shop [the Weekend Brewer in Chester] already in existence. I'm also a member of the James River Home Brewers. So I at least was connected in that way. And there's a Facebook page called the Richmond Beer Elite. I had a good feeling about it, but you never know what's actually going to happen until you do it.
RBS: Breweries seem to be popping up left and right. Is that good for your business?
TA: Absolutely. I think the more the merrier. As people discover craft beer, it raises their interest in learning more and maybe making their own.
RBS: When did you get into brewing?
TA: It was around 1992. We were drinking great beers. Back then, good beers were Sam Smiths. There was a shop like this on Main Street. I went in there and got a kit with my roommate. It was just so much fun.
RBS: When did you have the idea for the shop and decide that it would work as a business?
TA: I've pretty much known from my early 20s that I was going to open a business. But I have a lot of interests and hobbies. I worked at Whole Foods and Elwood Thompson's before that. I loved telling people there about beer. I thought, 'this is what I have to do.' I was thinking about this for a good 10 years.
RBS: Who's your biggest competition?
TA: The biggest competition is online retailers. One thing that's a strength for a shop like mine is customers can come in and have a conversation. If there's a mistake to make [in brewing], I've made it.
RBS: Who's your average customer?
TA: The average customer is usually a guy, probably in his 20s or 30s. But I see men and women of all ages. I have a pretty good amount of brand new brewers coming in. They don't know anything about it and just want to get started.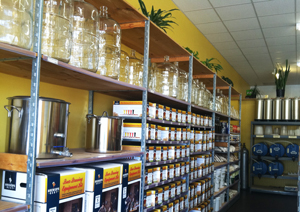 RBS: Is there a particular type of beer that people want to learn to make?
TA: IPAs [India Pale Ales] are definitely really popular. Also people are making wine and cider. A lot of people are getting into cider these days. It takes a lot less equipment to make cider.
RBS: What's the oddest beer you've seen someone try to brew?
TA: People do weird stuff all the time. There was a kiwi lime IPA. And a guy wanted to do a Christmas beer. He took a cutting off his tree.
RBS: Are you still brewing?
TA: I brew about every two weeks. Either at home or sometimes at a friend's house if I have a friend available on a Monday. The last beer I did was an imperial IPA. I used some citra hops and a rare hop from New Zealand known to have a white wine grape flavor to it. Nelson sauvin.
RBS: What have your sales and revenue been like through the first year?
TA: It certainly has exceeded what I was hoping to do. I started with about $15,000 in inventory. It's a lot more now. I have a 1,000-square-foot shop that I'm already outgrowing.
RBS: How big do you think the home-brewer market could get?
TA: I think it could grow, but I don't think it's like a secret untapped market. But it has grown considerably. I've been brewing for about 20 years, and it used to be few and far between to talk to somebody about brewing. I think it will continue to grow along with the craft beer market.
RBS: Are you seeing customers who want to make a run at it with a full-scale brewery?
TA: Over the last year I've heard of at least seven home brewers who are brewing that are looking at opening something bigger.
RBS: Are you still a one-man show?
TA: I'm getting close to where I can move on to hiring people. But right now it's just me. I'm here six days a week, Tuesday through Sunday.
RBS: What's the next step for Original Gravity?
TA: The next step will be getting to where I could hire employees and maybe open a second location. I would look at another location in Richmond. We have events from time to time where people come and set up outside the shop and brew. I've only done two of them so far. I'm also going to be getting into classes.