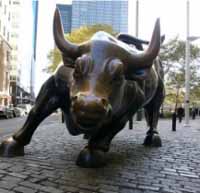 CarMax (KMX)
CarMax announced that Joseph S. Kunkel, senior vice president of marketing and strategy, will be leaving the company effective Dec. 22.
Dominion (D)
Paul Koonce, an executive vice president, sold a total of 23,750 shares in two transactions valued at $1.2 million, an average share price of $51.67. The sales were part of a predetermined trading plan.
Genworth Finanical (GNW)
The company increased the size of its board to eight directors and elected David M. Moffett to serve as a new independent director. Moffett, 60, served as CEO of the Federal Home Loan Mortgage Corporation (Freddie Mac) from September 2008 to March 2009. Prior to that position he was a senior advisor with the Carlyle Group and a CFO at U.S. Bancorp. Moffett holds a bachelor's in economics from the University of Oklahoma and an M.B.A. from Southern Methodist University.
Markel (MKL)
The specialty insurer continued selling off chunks of its holdings in Union First Market Bankshares this week with the sale of 10,000 shares at $15.50 per share for $155,000.
MeadWestvaco (MWV)
CFO Mark Rajkowski exercised options for 35,684 shares at $26.25 each, and 84,000 shares at $8.05 per share. He then sold 105,000 shares at $30.72 per share, a total sale of $3.2 million.
Director Jane Warner exercised options for 1,692 shares at $20.80. She then sold the shares at $30.57 each, a sale of $51,000.
Robert Birkenholz, a vice president, exercised options for 7,897 shares at $21.27 per share. He then sold the shares for $31 each in a total sale of $244,000.
C&F Financial (CFFI)
Chairman and CEO Larry Dillon sold 500 shares at $34.22 each. He then sold an additional 1,000 shares at $34.75 per share. The two sales total $51,000.
Union First Market Bankshares (UBSH)
Union's announced a share repurchase program to purchase up to 750,000 shares of the company's common stock on the open market or in privately negotiated transactions. The program will run through December 31, 2013.
Village Bank and Trust Financial (VBFC)
Calvert Esleeck Jr., a director bought 1,500 shares at $1.33 each. He owns more than 20,400 shares.
President and CEO Tom Winfree bought 200 shares at $1.25 each and another 200 at $1.35 per share.