The Pitch is Richmond BizSense's monthly advertising digest. Tell us about your new accounts and campaigns by emailing [email protected].
The Richmond International Airport reappointed the West Cary Group as their agency of record for 2013. Last year, the firm redesigned the airport's website and added an interactive map route.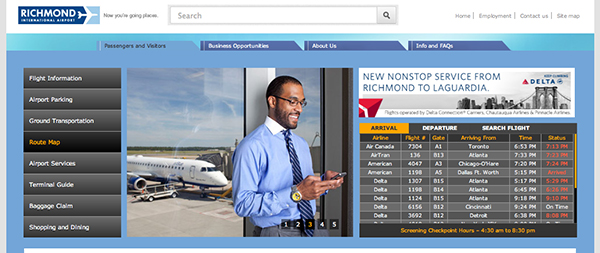 93 Octane updated the website for Youth with a Mission's Richmond campus. The new design features streamlined navigation new gallery, blog, calendar, directions and donations pages.
The firm also designed the packaging for a new line of cleaning products for Clutter Cleaner.
The Richmond Metropolitan Convention and Visitors Bureau launched a new name and logo. The agency, now called Richmond Region Tourism, also released a video about the impact of tourism on the region. The campaign is part of a push to get more people involved in the local tourism industry.
The GEICO Gecko released a book called "You're Only Human." The Gecko made an appearance on Rock Center with Brian Williams to promote the book, co-written by the Martin Agency.
Visit NBCNews.com for breaking news, world news, and news about the economy
The Martin Agency also released new ads for Stroz Friedberg, Colonial Williamsburg, Cool Whip and GEICO.
Big River picked up two clients this month. MHI Hospitality Corporation hired the firm to help them create a new image. Big River created a new brand for the company, including changing its name to SoTHERLY Hotels. The Williamsburg-based corporation owns hotel properties from Maryland to Florida.
StellarOne Bank also hired Big River to help build its brand as the bank expands to other parts of the state. The Charlottesville-based bank recently opened branches in Richmond and Hampton Roads.
Courthouse Family Medicine contracted Impression Marketing to handle its advertising. The firm will launch a new website for the family practice clinic and handle the grand opening ceremony this spring.
The Hodges Partnership has been retained by Stitch Golf, which produces leather golf head covers, to handle its national media relations.
The Center for Innovative Technology also retained the Hodges Partnership. The center is working on a new campaign for Virginia Longitudinal Data System, and the Hodges Partnership will help them implement it.
Charles Ryan Associates moved to a new office space in the Shockoe Center at 1900 E. Franklin St. The firm worked with contractors and architects through Plus Management and interior designers at Dial Meyers Design to update the space.
TMI Consulting picked up its first international client. It's developing a program for the German Marshall Fund to encourage more civic engagement.