A West End ice cream maker is hitting the road.
Gelati Celesti started operating an ice cream truck last week. Owner Steve Rosser said the truck will make regular appearances at summer festivals, office parks and food truck courts.
"Originally this was going to be another way for us to get our brand out there. But it's turning into a new revenue stream – almost like a third, mobile store," Rosser said.
The Gelati Celesti truck has been making the rounds since last week, and Rosser said it's selling an average of 15 to 20 gallons per event – feeding 125 to 250 customers in three hours.
Prices range from $3.50 to $5.50 per cup.
During the peak summer season, the company makes about 150 gallons a day at its production facility off Dabney Road.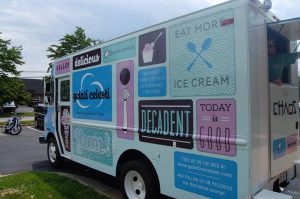 The truck has been in the works since December, and Rosser said the business invested about $65,000 to get it up and running. East Coast Custom Coaches, a Northern Virginia firm that specializes in food truck design, built the 6-by-12-foot truck.
To help handle the new business, Rosser said he plans to bring on two new employees. The truck will serve a rotating menu of eight Gelati Celesti flavors.
The 29-year-old ice cream shop has two storefronts – one on West Broad Street and a second in the Stony Point Shopping Center that opened last May. The company's wholesale business also supplies more than a dozen local restaurants, including Edo's Squid, Lemaire, Millie's Diner and Boyer's Ice Cream & Coffee.
Rosser said adding a food truck is another way for the company to test the market for future expansion.
"We've always known this is a brand with a lot of potential for growth," Rosser said. "But because it's a handmade product, we want to control that growth so we aren't sacrificing quality."
Rosser said the company is eyeing a few other locations for additional stores, including Brandermill, Mechanicsville and east Richmond. In the next three to four years, he said, he'd like to expand the business outside of Central Virginia.
He said Richmond's recent influx of frozen yogurt franchises hasn't eaten into Gelati Celesti's sales.