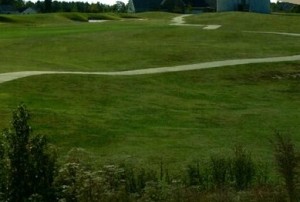 Things are coming to a head between the tax man and a troubled local golf course.
A forced auction has been set for next month to sell off River's Bend Golf Club due to years of unpaid taxes. Chesterfield County won court approval for the sale which is to take place Monday, Sept. 9 at noon on the steps of the county courthouse.
That's unless the course's owner, who hasn't paid real estate taxes on the 177-acre property in three years, can come up with a last minute plan to keep the county at bay.
Owner Ronnie Kelley has said for the last few months that he's working to gather investors to prop up not only River's Bend, but also his other course, Prince George Golf Club. That property, located just south of Petersburg, was put into Chapter 11 bankruptcy in February to stave off foreclosure.
Kelley said in an email this week that his plan is moving in a "good direction."
Jim Elliott, a Yorktown attorney whom Chesterfield County pays to collect delinquent real estate taxes, said property owners have until 5 p.m. the day before an auction to redeem the property. That includes paying all unpaid taxes and court costs.
Chesterfield's tax lien takes precedent over any other liens on River's Bend, including those of its lenders. The county filed suit in late May to gain court approval for the auction.
Should it make it to auction, Elliott said properties are open to the highest bidder and the court has the final say on the winning bid. The River's Bend property has been appraised at $3 million, he said. The county most recently assessed it at $1.81 million.
"A million dollar bid may or may not buy it. That's up for the court to decide," Elliott said.
The lender on Prince George Golf Club meanwhile hasn't given up its efforts to collect. First Community Bank earlier this month argued in federal court that it should have the ability to foreclose, despite the bankruptcy.