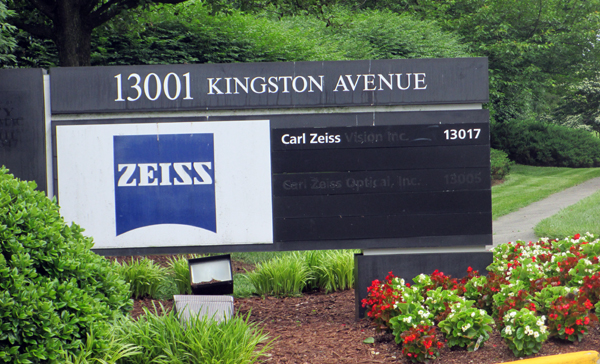 A Southside eyeglass maker is laying off dozens workers.
Carl Zeiss Vision next month will cut 73 employees at its Chester optical lab. Affected employees of the North Kingston Avenue operation received a 60-day notice of the impending layoff Thursday, said company spokesman Jeff Hopkins.
The lab, which sits at 13017 N. Kingston Ave. just off Interstate 295, makes prescription eyeglass lenses.
It will remain open but will take on a new role that will require fewer workers, said Hopkins, senior manager of customer communications at the company's North American headquarters in San Diego.
The work of creating the lenses will now be done solely in Carl Zeiss labs in Portland, Oregon and Mexico, Hopkins said. The Chester lab will continue doing finishing work, which involves cutting lenses, putting them in frames and doing a final inspection. They also will still handle intake and customer service.
"I want to emphasize that the Virginia lab is still an important part of our lab and will continue to be so," Hopkins said. "Ultimately, they are still responsible for the quality of work we provide to those customers."
A factor in the decision was a loss of one of Zeiss' big customers, EyeMed, to a competitor. According to a report in ophthalmic journal Vision Monday, EyeMed now uses Essilor for lab services. EyeMed is one of the country's biggest vision care plans.
"Like other labs and lab networks, our access to a part of the market has been restricted by recent changes in the managed vision care field," Hopkins said.
Hopkins also said, because the process of creating customized lenses is sophisticated, it is easier to concentrate the work in fewer labs where it has engineering teams dedicated to the process and can keep equipment better calibrated.
Hopkins said affected employees will receive assistance with job placement and some other benefits.
Zeiss has had a presence in Chester since 1998, Hopkins said. The company entered the local market in 1973 by acquiring a lens company in Petersburg. Zeiss also has a sports optics group in North Chesterfield. Its parent company, Carl Zeiss AG, is headquartered in Germany.