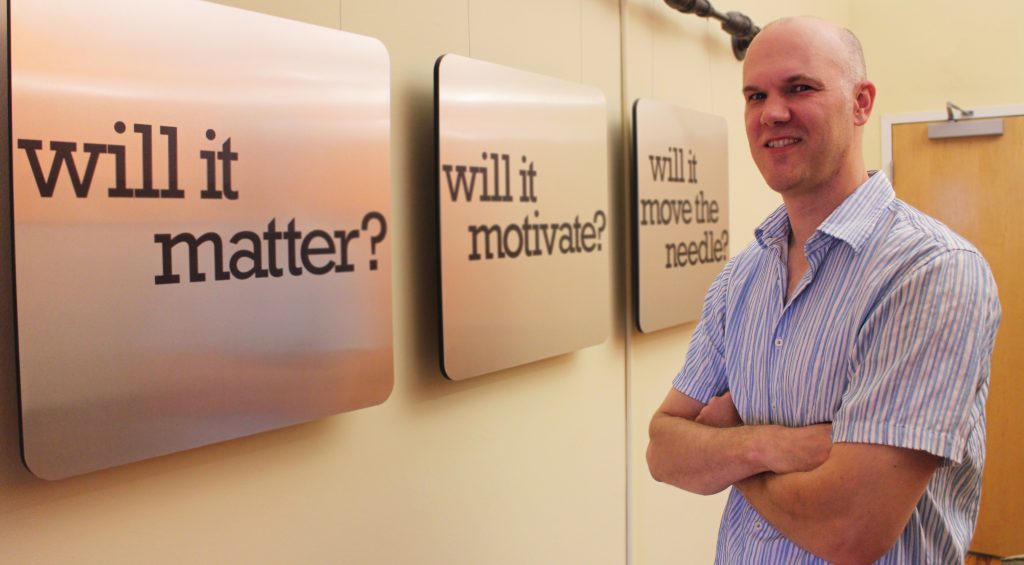 Editor's note: This is the third installment of what is planned to be a recurring Q&A with members of the local advertising and marketing scene in an effort to zero in on the creative process that fuels this industry in Richmond.
Walk into the workplace of 93 Octane, and immediately you're surrounded by the agency's branding skills at work.
Props further the concept set forth by the ad firm's fuel-inspired name: a gas pump nozzle here, a grill off an old Jeep there; a one-way sign logo that wraps around a circular lampshade. They add to slogans posted on walls such as "What fuels you?" and "Will it move the needle?"
The concept is the brainchild of owner and creative director John Lindner, who started the agency in 2002. Now leading a team of six, the 44-year-old splits his days between finding the creative and overseeing renovations for the agency's new home: a building just a few blocks away at 105 E. Grace St.
On the verge of that next chapter, Lindner talked with Richmond BizSense about the drive that has fueled his firm for more than a decade. Below is an edited transcript:
Richmond BizSense: What's your brainstorming or creative process when working on a new campaign or account?
John Lindner: The job of every good creative is to push the boundaries. So if you say it has to be in this budget, or it has to be blue, or it has to be done on Tuesday, the great deal of them will say: 'Well, can it be dark purple instead of blue? Can it be done early Wednesday morning?' Their job is just to push the boundaries.
Boundaries are what it takes for a creative person to be successful. If you say you can do anything you want for any budget you want and take as long as you want, they won't get anything done. They'll be completely stymied. But if you say it's got to be under $1,000, and it's got to be done by Tuesday, or it's got to be done in the next five minutes, suddenly it takes this world of infinite possibilities, and instead of 10 billion options, it's now a million. And they can work with that.
I think that truly creative people, they're creative in all parts of their lives. They're sort of like museum curators; I know I am. I just collect ideas that I see along the way, and I don't even know what I'm collecting them for: 'That's a really cool photograph,' or 'that's a really cool type treatment,' or 'that's a really cool thought,' or 'that's a really interesting approach to paving the parking lot.' And you just kind of file that away, which is why I've got piles all over my desk and my email has thousands of emails. Because you know someday you're going to be able to pull it out and go: 'Oh, that's how I can use that idea I've been saving for the last 25 years.'
RBS: Does your firm have a ritual for getting into that mindset?
JL: Every job is different. Before we really jump into brainstorming, we do our homework, so we're researching our client to make sure we understand them, and we're researching the competition, all the categories that we're in. Depending on what it is, it might take a bunch of different forms. A lot of times, with naming, I like to have as big a group as possible, a lot of different ideas, and I like to have it be like you have to come up with the idea like that (snaps fingers), and the goal is to generate as many ideas as we can without really evaluating how effective they are.
A lot of times, when we get stuck, we'll do this exercise that's like the opposite world: what would be the worst campaign you could do this morning? And you think of these terrible headlines and these terrible images, and then you try to turn them around: what would be the best? It would be the opposite of that, of course. Oftentimes you can't do the best, but it ends up being this really interesting way of getting to a solution that you wouldn't often come to ordinarily.
RBS: What drew you to a career in advertising and marketing?
JL: This is the saddest answer ever: I got into graphic design because I got into yearbook in high school. It sounds so geeky. It wasn't on my radar, and I found myself in this yearbook class, and it was all the things I loved: it was journalism and it was photography and it was layout. And I thought, 'This is awesome; this is what I want to do.' So I applied to all these journalism schools, and I discovered in my naiveté that journalism school was over here on this side of campus and the graphic design school was over here on this side of campus, and I had to choose. And I really loved the design aspect of it and have not really looked back.
RBS: Do you have a favorite ad campaign that you've helped create for a client?
JL: Circuit City used to do these things where they were coming to the end of their (fiscal) quarter and they'd be like: 'We are $300 million short of our earnings projection; can you do something to generate business,' like in the next six weeks or something. The first time they asked us to do this, we did this postcard. I literally got a call at 5 o'clock on a Friday, and they said, 'We need the artwork on Monday morning; it's going to go to press and we're going to print 12 million pieces,' or something like that.
We did this piece that generated like $78 million worth of business in two weeks. So it was really awesome. It's awesome to see a huge, tangible difference in your clients' lives. So I'm really proud of that. It wasn't the most incredibly creative from a design or conceptual level, but it was awesome to see it impact a client in that way.
Another campaign that I really love was for Medarva – Stony Point Surgery Center. They were promoting their optometry group. They already had this brand positioning that's the idea that, because they attract a lot of independent physicians who are at the top of their game, that they practice medicine as an art. So we already had this sort of framework to work with – these boundaries that creative people love and hate – to promote this optometry group. And we ended up creating this campaign that's these ultra-close-ups of a human iris, and they're shot so close that you can't even tell what they really are; they look like the nebulas from the solar system or something.
RBS: If you could ask one person in the ad community one question, who and what would you ask?
JL: I'm a big fan of (VCU Brandcenter professor) Kelly O'Keefe – we've worked together quite a few times over the years – and I'm always surprised at how often he's saying the same thing that I'm thinking, but he's saying it in a way that the client is able to feel like they came up with that idea.
I'm always wanting to say something very blunt – as an agency, we will always tell you what we think, but we also recognize that you're the client; at the end of the day, it's your money, it's your campaign, you can do what you want to do. He has a way of getting them the best product but also inviting them into the decision process in a way that really changes the conversation, and I've been trying to get his – whatever he's got. I'd probably ask him (how he does that). He has an amazing self-restraint that I don't have.