The imagery grabs your attention:
A car full of gun-toters, looking up to no good.
Two women sharing the smoke off a marijuana pipe.
A drug deal going down. Guns bought off the street.
And somewhere in each scene, there is Q-Man: a faceless figure in a red body suit, a could-be superhero witnessing a crime – a white question mark prominent on his chest.
The question he carries is answered in the end:
"We don't have to know who you are to know who they are."
The 60-second television spot – the brainchild of local ad firm The King Agency – turned heads when it began airing in 2014 as a way to encourage citizens to anonymously contact Crime Stoppers Metro Richmond if they witness a crime. It also got the attention of the regional chapter of the National Academy of Television Arts & Sciences, which has nominated "Q-Man" for an Emmy Award.
The nomination – in the Community/Public Service category for a single spot or campaign – is the first for a commercial produced by the agency, which collaborated with Emmy-winning director Sunny Zhao of Richmond-based Dreams Factory.
If awarded, the Emmy would go to Zhao, who is a member of the academy.
Dave King, the founder and creative director of The King Agency, sat down with Richmond BizSense to discuss the inspiration behind the Q-Man spot and his firm's creative process.
The following is an edited transcript:
Richmond BizSense: Where did the idea come from for Q-Man?
Dave King: We talked with (Crime Stoppers) about what their objectives were, what they were trying to get out of this and really who the audience was. It was really interesting, because you have the business leaders who are donating money to support this, so you have to appeal to them and let them know that it's going for a good cause, it's making the community a better place, it's making it safer. And on the flip side of that, you have the people who are going to be calling, that you need to convince to do that.
Now, those two groups never cross paths. So it was really a challenge to look at it when we were concepting and coming up with ideas but it wouldn't resonate with both sides of it.
How we came up with Q-Man was the people that are giving us information are really putting their lives on the line in some instances. If somebody found out, it could be really bad for them. And our main message we wanted to get to that side was "Nobody will ever find out." And that's why we created this anonymous person: that you will be anonymous, people won't know who you are.
So we put this person in all these bad scenes, that there's always somebody who is a witness to things going on who could step up and do the right thing. And that's really where this came out of. That was our main thing: the most important thing to these people is the anonymity.
RBS: What did Dreams Factory bring to the project?
DK: They have a huge part in this, because they took our idea and our boards and whatnot and put their creativity into it, as well, and they brought it to life. They got the suits made and they got the casting done. They shot it beautifully.
We came up with the idea, and they did the scouting, found the areas, worked with the prop people to make sure everything was right. It was our idea that these guys brought to life.
RBS: What does the nomination mean for The King Agency?
DK: It's a rarity in the advertising world. I've really not heard of ad agencies (in Richmond) winning Emmys. Of course, (The Martin Agency), they've won one of everything ever created. So Martin was nominated this year, as well. I think there's been one or two other agencies over the years here in town that have also at least been nominated. We're excited.
When you get to work on something like this that's pro bono, that you get to help a cause, that you get to have full creative control over, everybody sort of rallies behind it. There's not a financial reward for it; your reward is getting to create really good work for a really good cause, and it just makes you feel good.
RBS: What other campaigns have you been most proud of?
DK: We did Vitamix blenders: the naked chef campaign. They were launching a new blender, and it was just to chefs. So these chefs (in the campaign) are these wacky, Guitar Hero-kind of guys within the culinary world – famous, upcoming chefs. We'd get them to stop in Richmond, we'd have somebody waiting at the airport, grab them, run them down to the photo studio, photograph them, put them back on the plane and keep going. We did that for about a year.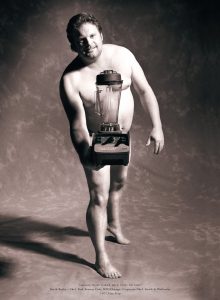 We had people sending naked pictures of themselves in their kitchens. We said the one thing we're not going to do is we're not going to put another chef in a white coat and a hat holding food, smiling. We had a story in The New York Times, in Chicago, in Pittsburgh, in Elle magazine in Germany, a five-minute segment on CNN. So it just went crazy.
RBS: Do you ever have days when the creative process is just not producing? How do you deal with it?
DK: On a rare occasion you'll hit a block, and you just need to step away from it. I purposely set the agency up so that we're not specialists in one category. We don't just specialize in healthcare or automotive or financial. So you can take a break off something and go in a totally different direction, and your brain starts working then on a bank or a food product, and then you can come back to this.
So we're constantly having all of these different stimuli from outside from different kinds of clients that I think really keeps the thinking fresh and keeps you looking in many directions all the time. And ideas just come from everywhere. So I think that's really helped us.
RBS: You started your agency 18 years ago, and you were in Richmond before that. Why do you think Richmond has developed the community of agencies that it has?
DK: You have VCU, which puts out a bunch of folks, and a lot of them stick around. For the size of this city, there's a lot of advertising and marketing firms, which is why we have to go out of region or out of city.
It makes it more challenging, because there's a fair number of very good agencies in this town, and we usually come up against the same ones over and over. But what's nice also is we'll compete for work, and sometimes you win and sometimes they win, which is good because it keeps everybody in business.