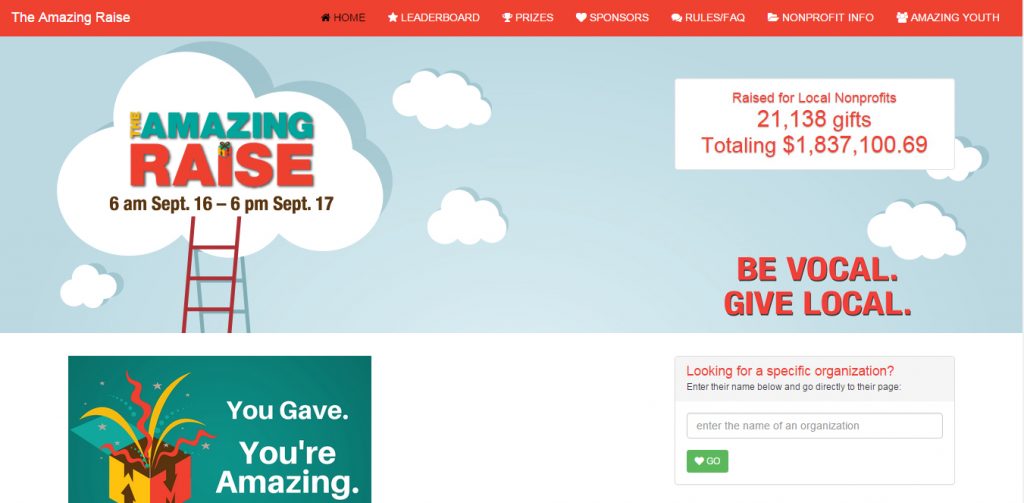 In the midst of bike race mania, hundreds of local nonprofits sped through a fast-paced competition of a different sort this week.
The fifth annual Amazing Raise, a 36-hour giving challenge developed by The Community Foundation, wrapped up Thursday night with $1.84 million raised for 553 local nonprofit organizations through 21,135 donations.
The event culminated at 6 p.m. Thursday after kicking off at 6 a.m. Wednesday morning. The results came up short of The Community Foundation's goal for this year, which spokeswoman Kim Russell said was $2 million through 25,000 donations.
Last year the event raised $1.7 million through more than 20,000 donations, and the year before it raised $1.55 million.
The top recipients this year were Church Hill Activities and Tutoring in the large organization category, with $62,522 raised, and Richmond Center for Christian Study topping the small organization category with $37,464.
Following CHAT among large nonprofits was the Community Ideas Station in second place with $42,751, and the Elijah House Academy with $29,860. The Blue Sky Fund got the prize for second place in the small organization category with $28,150 raised, and Southside SPCA followed with $23,900.
In addition to the funds donated, The Community Foundation raised $180,000 in prize money that was awarded to various nonprofits for reaching different goals throughout the 36-hour period.
Towne Bank sponsored the two largest prizes this year of $15,000, which went to CHAT and Richmond Center for Christian Study for earning the most in their size categories.
This year new prizes were included to engage young people, including the Youth Power Hour, during which a random young donor is chosen and an additional $1,000 is given to his or her nonprofit. The Patrick Henry School of Science and Arts was awarded that prize.
The Community Foundation has also expanded its Selfies For Good prize, allowing donors to support an organization by posting a selfie photo to Instagram and Twitter, tagged with the name of their favorite organization and why they are offering support. Inspire International won the Selfie for Good this year.
Russell said while it feels good to see the total dollar number rise, the event is designed to reward participation.
"The overall goal is to inspire, increase and expand philanthropy in our region," she said. "Philanthropy can sometimes have an exclusivity associated with it, but we feel that anyone can be a philanthropist, and if you give what you can, it matters."
Some of this year's prizes include:
– Procrastinator's Prize, $2,000, to CHAT and the Richmond Symphony
– Sprint to the Finish, $2,500, to Blue Sky Fund and the Richmond Symphony
– Youth Give Back, $1,000, to the Patrick Henry School of Science & Arts
– Notable Newcomer, $1,000, to Midwives for Haiti
The complete list of winners can be found here.