More homes are being eyed beside a Short Pump-area interchange that has seen a recent surge in interest from developers.
Locally based Duke Development is seeking a rezoning that would allow 59 new homes on a 32-acre tract in the northwest quadrant of the Interstate 295-Nuckols Road interchange.
The single-family homes would be built on six parcels south of New Wade Lane and east of Parkland Drive, beside the Jamerson Park and Bellingham sections of Twin Hickory. Land reserved for a future Dominion Power substation is located to the east.
Developer G. Brian Duke said he and partner Robert Dewbury have the properties under contract. He said his company was attracted to the area for its schools, proximity to shopping and other amenities.
"We see it as an infill, in a stable area that remained stable even through the (economic) downturn," Duke said. "The schools, the public facilities – the libraries, the playgrounds – all those things are why we think this is an excellent location … We also think it will complement Twin Hickory."
The Twin Hickory's neighborhoods are almost all under the management of the same homeowners' association, Duke said, and his hope is for his development to become part of that same HOA or to establish one that follows similar guidelines regarding yard maintenance and house upkeep.
The land is across Nuckols Road from the site of a recently approved residential development: an extension of Holloway at Wyndham Forest that will add up to 240 homes between Opaca Lane and the Springfield Road Landfill. Developer HHHunt, which also developed Twin Hickory, received that approval in July.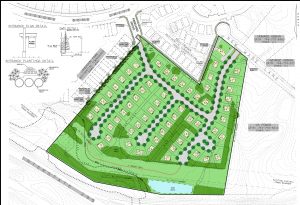 Duke's 59 homes would add to an existing house that would remain on the site. Two other existing homes would be removed as part of the project.
The new homes would have a minimum of 2,500 square feet of finished floor space and a variety of layouts and exterior facades. Each would include a two-car garage, and Duke said homes would be priced between $525,000 and $550,000.
Duke declined to say how much the development is expected to cost. He said a builder has not yet been selected.
If endorsed by the Henrico Planning Commission, which deferred the case in September to its Oct. 15 meeting, the rezoning would then go to the Board of Supervisors. If approved, Duke said construction could begin by the fall of 2016.
The rezoning would be the second for Duke in Henrico in recent months. In June, the county approved a 50-home subdivision Duke is developing farther east, likewise on the north side of I-295.
One factor that could determine whether this latest request is approved is what is to be done with a small cemetery that is located on the project site. County planning staff has identified four or five marked and unmarked graves in the path of a planned extension of Parkland Drive, which would serve as one of two entrances to Duke's development.
In a staff report, the commission states: "If the applicant could clarify what will happen to the cemetery, staff could fully support this request."
Duke said he has hired Lyle Browning of local archaeology firm Browning & Associates to assess the cemetery and determine whether the graves could be removed. Relocation would require a permit from the state.
The scenario is similar to one currently underway in Hanover County, where an unmarked grave was recently discovered on the site of a subdivision already under construction. The developer of that project is also working with Browning in applying to the state for a relocation permit.