A city report on the short-term real estate rental market in Richmond describes listings on websites such as Airbnb as a "new tourism model" that the city should consider allowing. But it also acknowledges challenges the city would face in regulating and taxing the service effectively.
The report, prepared by the city Planning Department at the request of City Council and presented yesterday to the Planning Commission, acknowledges hundreds of homes and rooms in the city that are being offered online, even though such rentals are currently prohibited under city code.
The report's recommendations, if adopted by council, would allow such rentals through changes to the code, a process that would require a public hearing and could more formally open Richmond up to a new form of lodging becoming common across the country.
Adjusted ordinances would allow short-term rentals as an accessory use of a property. The city would issue business licenses and collect lodging taxes from such rentals. Such a change would require the addition of two to three full-time employees to review and issue licenses, collect tax revenue and provide enforcement.
Although the report predicts a greater tourism impact from rentals in which the property owners are on-site for the duration of their guest's stay, it suggests permitting "unhosted" stays, as well.
Other recommendations include further study to determine maximum number of nights and rooms permitted for rentals and allowing the rentals in a broad array of zoning districts, similar to other localities that were studied.
"Every city has a slightly different take on how they manage and regulate short-term rentals," said Mark Olinger, the city's director of planning and development review. "There are some consistent things throughout, where no city has them as a principal use."
Olinger said last month that the report does not provide all the answers needed to draft an ordinance but is instead a look at other cities and how they're handling a similar influx of short-term rentals. Other localities studied for the report include Charlottesville and Roanoke, as well as Louisville, Kentucky; Madison, Wisconsin; Nashville, Tennessee; Portland, Oregon; and Philadelphia.
"This is all new territory for most communities," Olinger said.
The city currently prohibits short-term rentals of less than 30 days in all of its zoning districts and enforces its ordinance on a complaint basis. The report says seven complaints had been received by the time it was released last week.
Chesterfield and Hanover counties have taken similar approaches, though both allow short-term or transient rentals with an appropriate permit. Henrico does not have an ordinance addressing short-term rentals and has been taking a complaint-driven approach, as well.
In the city, violations could bring a $2,500 fine and/or up to a year in jail if a violator does not resolve or appeal the issue within 30 days.
According to the report, the number of Richmond-area rentals listed on Airbnb, the most popular rental site, totaled 434 on June 22 and 543 on July 23. By the time of the UCI Road World Championships, which prompted council's request for a study on the issue, the number of listings had jumped to nearly 800 by Sept. 1, two weeks prior to the event.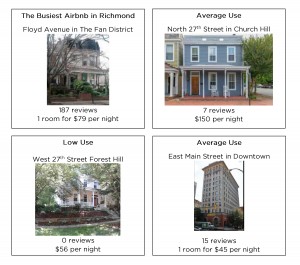 Since then, the number of rentals has dwindled considerably, down to more than 300 as of last Friday. Rentals vary from downtown guest rooms to basement apartments on Monument Avenue, to entire town houses or carriage houses in the Fan or Church Hill. The report also notes listings for larger properties in the West End and Forest Hill.
Of the 543 listings in July, 60 percent were for entire houses or apartments, as opposed to private or shared rooms; the highest number of guests accommodated was 14; and the highest number of bedrooms available at any one place was six.
The report notes that only about 5 percent of the 434 listings in June were responsible for just over half of the reviews posted on Airbnb, indicating those listings were being rented more regularly than others. Such activity could be considered a principal use of the property.
"These listings are essentially operating as permanent lodging facilities," the study states, but it suggests all short-term rentals should be designated as a property's accessory use.
The report stresses a difference between hosted and unhosted stays in terms of oversight and the impact of short-term rentals on tourism, although it advocates for both.
"If the permanent resident co-exists with the guest, they can more closely monitor any undesirable behavior that may negatively affect neighbors or the neighborhood. They can also serve as a guide to the city," the report states. "This characteristic emphasizes the important tourism aspect of the short-term rental experience in that guests are able to see the area through the lens of a local."
The report says enforcement of business license permits and lodging tax collection on the rentals would likely fall on the city zoning and finance departments, as Airbnb does not typically provide assistance for such services for cities of Richmond's size. The report also states that Airbnb has largely not cooperated with other localities' efforts to enforce limits on the number of days a property can be rented at a time or in a given year.
Short-term rentals are also not expected to be a major revenue generator for the city. If each of the 543 listings in July brought in eight bookings per year – the average determined for the report – an average rental rate of $110 per night would produce $38,227 in total lodging tax revenue, the report states.
And under the report's recommendation, if an owner's annual gross receipts are under $5,000, he or she would not be required to pay a business license fee. Under such rules, the average whole-unit rental could host 36 nightly stays a year, and a shared-room rental could host 63 without a license.
In a presentation Monday to the Planning Commission, Olinger said next steps would include discussions with stakeholders, including hosts and representatives of the industry and neighborhoods. He said that process would take about three months to complete and would be conducted through the early part of next year.
Based on those discussions, Olinger said a proposed ordinance could be finalized by late spring and presented to council for potential adoption by summer.