Park Group announced that Stacy Murphy-Johnson has been made a stockholder and partner and now serves as president and executive producer. The VCU grad has overseen the company's production division over the past 17 years. The move is part of a larger restructuring that has also seen CEO Dave Trownsell acquire majority shares of the company from former partners last year. The leadership team includes shareholder Eric Heiberg, who serves as vice president.
Neathawk Dubuque & Packett has been nominated for MediaPost's Creative Media Awards for its integrated media campaign for the Virginia Museum of Fine Arts exhibit, "Japanese Tattoo: Perseverance, Art and Tradition." The exhibit is a finalist in the international award show's outdoor media category. Winners will be announced Jan. 28 in New York City.
The Richmond chapter of the Public Relations Society of America has installed officers and directors for 2016. Officers include Andrew Ryan of Commonwealth Partnerships as president; Jennifer Guild of Virginia ABC as president-elect; Cameron McPherson of The Hodges Partnership as first vice president, professional development; Greg Surber of The Hodges Partnership as second VP, awards; Judi Crenshaw of Virginia Council on Economic Education as third VP, membership; Casey Ferguson of VCU School of the Arts as secretary; and Windy Campbell, an independent PR practitioner, as treasurer.
Kelley Communications created three web videos for OrthoVirginia highlighting the statewide orthopedic group's physicians and patients. The agency also partnered with Beau Cribbs of Relish Creative Communications to produce an ad for OneVirginia2021. The video, titled "Vote Jerry Mandering," is aimed at drawing attention to Virginia's redistricting rules.
Creative Visual Design was hired by real estate brokerage Cumming Rand RVA, artists Molly Sanyour Ceramics and Claes Tholand, and I am RVA, a nonprofit aimed at promoting bicycle safety.
Randall Branding has been hired by Dermatology Associates of Virginia for a website redesign and search engine optimization; Rusnak Family Dentistry for a rebrand including naming, logo, visual style, collateral and website; and contractor
Fast Glass for a logo update and business collateral redesign.
Spurrier Media Group has rebranded as Spurrier Group. CEO Donna Spurrier said the change is intended to better reflect the scope of the ad and marketing firm's services, which include but were often viewed by clients as being limited to media buying.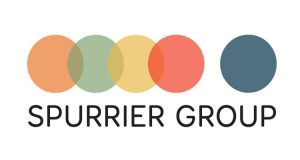 As part of the rebranding, Spurrier Group has hired Work Labs to develop a new logo and website. The logo features five circles that are meant to represent Spurrier's process working with clients. Work Labs is partnering with Think804 on the website, which is set to launch in March.
Think804 has also been hired by Georgetown Day School, a private school in Washington, D.C., for branding and logo design. And the agency is partnering with locally based MBM Marketing to design a new logo for Artober, a month-long celebration of arts and culture organized by CultureWorks.
Commonwealth Partnerships coordinated a campaign announcing the launch of the Virginia Housing Alliance, which was created this month with the merger of the Virginia Coalition to End Homelessness and the Virginia Housing Coalition. The campaign included public relations, content marketing and branding.
Studio Flatland worked with D.C.-based MDB Communications to produce an animated video for the Truth Initiative, a nonprofit public health organization encouraging youth and young adults to reject tobacco. The ad features a young girl building a snowman who thinks twice about adding a corncob pipe.
Lewis Media Partners has added three employees: Digital Buyer Tricia Watkins, Junior Account Manager Anne Garland and Ad Ops Specialist Cabot Hunt.
Addison Clark was hired by Mosquito Xpress, a mosquito and tick control company that serves the Central Virginia area. The agency was also retained by local HVAC company Gilman Heating, Cooling & Plumbing.
Madison+Main is launching a digital marketing and PR campaign for Swift Creek Mill Theatre to promote its upcoming performance of "The Little Lion." It is rebranding Faces of Virginia Families as New Found Families, a nonprofit that offers resources and support for adoptive, foster and kinship families in Virginia. Madison+Main has also been hired by Mt. Gilead Full Gospel International Ministries to assist with a digital campaign to boost the church's membership.
Madison+Main is also working on a PR campaign for Commonwealth Autism to announce its partnership with Shenandoah University. It launched a video entitled "Jack at Work" for Virginia Energy Sense and its "Value Your Power" program, with animation done by Abandon Films.
Free Agents Marketing has entered into a strategic marketing partnership with Glen Allen-based Commonwealth Commercial. The agency will provide strategy, PR and creative for the company, which provides commercial real estate services throughout the Southeast.
Richmond Ad Club is accepting entries for this year's Richmond Show. Work can be submitted at the show's website. The so-called "PsychADelic Show" will be held April 1 at the Hotel John Marshall.