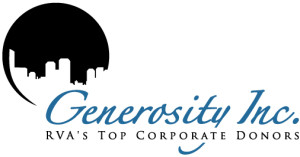 Richmond businesses were feeling extra generous last year.
Forty-four local companies gave a combined $25.15 million to area nonprofits in 2015, according the latest Generosity Inc. list, BizSense's annual ranking of the region's most philanthropic companies.
That total giving figure is up from last year's list, when 51 gave a combined $22.04 million to local nonprofits during 2014.
The top 10 companies on the list account make up a powerhouse of local giving, accounting for 95 percent of last year's total. Of that total, Altria Group – which retained the number one spot from last year – gave $13.19 million locally, far outpacing the rest of the pack.
The tobacco giant's local giving total jumped up about $160,000 from last year and its top recipients included Boys & Girls Club of Metro Richmond, the VMFA Foundation, among others.
Holding steady in the second spot was Capital One with $2.7 million in local gifts, including its largest to Richmond Public Schools. That's up $500,000 from last year's list.
Martin's, which is the subject of plenty of headlines in recent weeks, held its place in the top five with $1.49 million, down slightly from $1.6 million on last year's list.
New to this year's list were CarMax and Genworth Financial, two local Fortune 500s making their first appearance on Generosity Inc. CarMax cracked the top six with $1.23 million in local giving, while Genworth came in at number seven with $745,000.
Banks and credit unions had a solid showing again this year, with Union and SunTrust in the top five, followed by TowneBank and M&T in the top 12, as well as Call Federal Credit Union and Argent Credit Union making repeat appearances. It was SunTrust's first appearance in Generosity Inc.
Construction and real estate firms showed their generosity with Perkinson Homes, Cushman & Wakefield | Thalhimer, HHHunt, M.L. Bell Construction, Home Building Association of Richmond and Eagle Construction of VA representing their industry well.
Other noteworthy new additions to the list include local Haley Automotive Group and Best Bully Sticks with local giving of $138,000 and $90,000 respectively.
To get the full picture of local giving, the complete list can be seen here. It's open to all BizSense readers. You'll find each company's largest local gift, its top recipients and national giving figures for those companies with a presence outside of Richmond.
And now some news about the party:
BizSense will be hosting our annual Generosity Inc. event to honor the companies from the list, along with 150 or so guests. The crowd will include representatives of each company, as well as nonprofits and dozens of others looking to schmooze with this generous bunch.
The event will be held Wednesday, April 27 at Hardywood Park Craft Brewery on Ownby Lane from 5 p.m. to 7 p.m.
Tickets are now on sale and can be purchased by following this link.