"Is this the next Scott's Addition?" one attendee asked another as a group of developers, architects and commercial real estate brokers crammed inside the Streetcar Café coffee shop along Brookland Park Boulevard, a long-neglected corridor that some are declaring Richmond's next commercial hot spot.
The occasion was the latest Commercial Coffee get-together, a networking event put on by local engineering firm Timmons Group. The crowd of designers, developers and real estate professionals converged on the café last week to hear from owners Derek and Cybelle McDaniels, whose 1-year-old business has been viewed as a beacon for a sea change that appears to be swelling in the area.
"This corridor is rich with opportunity," Streetcar Café's Derek McDaniels told the group. "It was abandoned roughly 60 years ago, when 'white flight' occurred and then crime escalated and all the other things that impact small main streets. But what has been maintained here is a desire of folks to shop within their neighborhood."
Adding to their options in the next several months will be locally based Black Hand Coffee, which is moving its roasting and wholesale distribution operation from its current location in Scott's Addition, and a tattoo shop and sign painting studio by local artist Charles Berger, his first business venture.
And Jay Bayer and Adam Hall, the team behind acclaimed Jackson Ward restaurant Saison and the adjoining Saison Market, are actively eyeing Brookland Park for their next potential venture, details of which have yet to be announced.
"We have an interest in that part of town," Bayer said. "We believe it's a really forward-looking neighborhood – there are beautiful homes up there – and a really awesome opportunity in a part of town that we think is very underserved that we have interest in doing business in at some point."
The interest adds to activity already underway in the corridor, where the City of Richmond's economic and community development department – which for years has been pushing to revitalize the area through tax-abatement programs and other redevelopment incentives – has placed banners on street posts along the corridor that read: "Brookland Park Boulevard: Experience the transformation."
Already home to a bike shop, a shoe repair store, a hardware store and several other businesses, Brookland Park Boulevard has seen a significant uptick in interest from business owners and developers, both local and out-of-town.
Since April 2015, 13 properties within the corridor – part of the Brookland Park Historic District that stretches from Edgewood Avenue to Richmond Henrico Turnpike – have changed hands in deals ranging from $35,000 to $266,000, according to city property records. See the map here.
Three of those properties have been purchased in recent months by Brookland Partners LLC, an entity consisting of Keith Whipple of Water Street Studio and Patrick Sullivan of One South Realty Group. The duo is developing the buildings that will house Black Hand Coffee and Charles Berger, both of whom have signed multiyear leases.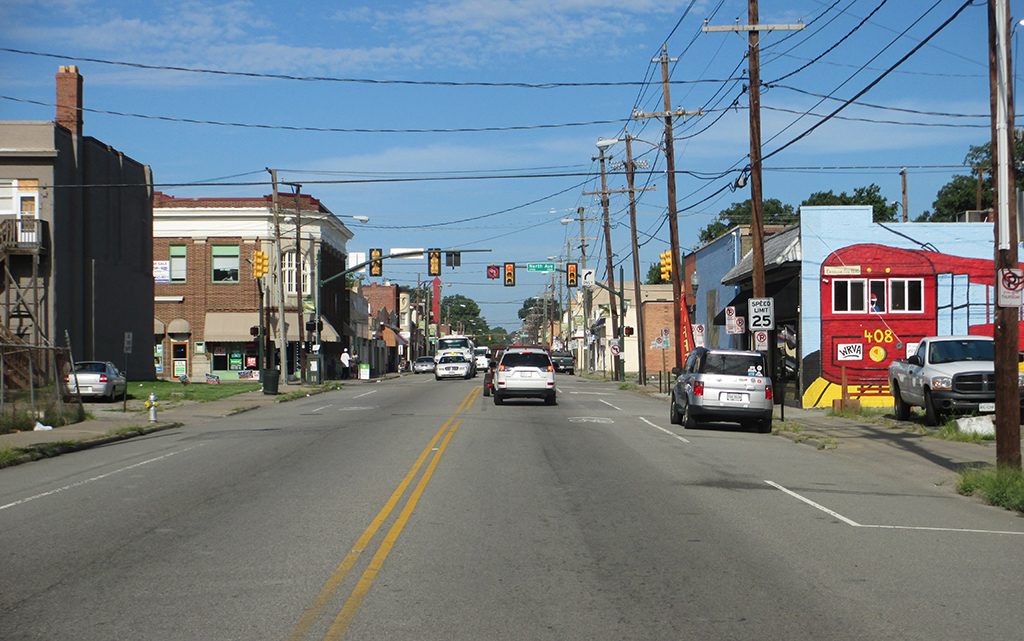 Another entity, locally based Dixon/Lee Development Group, is planning apartments and a business accelerator for the former American National Bank Building at 201 W. Brookland Park Blvd., which it purchased last year for $20,000. The former Brookland Theater building at 115 W. Brookland Park Blvd. was purchased in May for $106,000 by locally based Hampton Nash LLC. And an out-of-town group, Reston-based Nova Commercial Ventures, has purchased two properties over the past couple years.
Sullivan said the commercial interest is being driven by what's happening in the neighborhoods around it, where 1950s-era homes are being flipped and resold at considerable profits to young professionals and first-time homebuyers attracted to the area's housing stock and proximity to downtown.
"Everyone's just seeing what's happening with all the residential around it," Sullivan said. "You hit that critical mass where there's enough expendable income.
"It's the last real quality housing stock left in the city," he said. "As people are growing up from Shockoe Bottom and apartments, people are realizing they can buy a house, and they want to stay in the city and keep that character."
Of their purchases in the corridor, Sullivan added: "We're trying to find tenants that will help motivate change for the good of the entire neighborhood. We don't look at it as just an investment property."
New neighbors
For Black Hand Coffee, which is maintaining its storefront in the Museum District, renovations are underway at 15 E. Brookland Park Blvd., where an art deco-style garage building will house its roasting and wholesale distribution operation, currently based in a warehouse on West Leigh Street in Scott's Addition.
Black Hand owner Clay Gilbert said he was looking for a space where he could combine the roaster with a second café. He said rising rents in Scott's Addition made the concept less practical there.
Once he takes possession of the property in October, Gilbert said, roasting would start right away while work is done for the café, which is planned to open in November or December. Gilbert said he plans to put about $25,000 into the property.
"I'm actually from Richmond, but I didn't even know this place existed," Gilbert said of Brookland Park. "We were able to take advantage of some economic development credits, because the city is really invested in bringing that area up. And we decided that, long term, Scott's Addition wasn't going to be a place where I could put a café.
"I think that area has a lot of potential. There are a good number of restaurants that could go in there or want to go in that area," he said, adding that he's happy to commit to the area long-term, having signed a five-year lease.
Berger, who is opening his first brick-and-mortar shop after years drawing tattoos at shops in Carytown and Lakeside, said he was drawn to the area for its sense of community and lack of similar businesses. He said he's putting $20,000 into the space at 224 W. Brookland Park Blvd., which will house his tattoo shop and a space for his sign painting business. He plans to open the space on Oct. 8.
"The area, that strip – that was the hot spot in the '50s," Berger said. "I really enjoy that community, and I want to embrace that community by being there."
While the corridor has declined since that time, Streetcar Café's Derek McDaniels said its current traffic count is appealing to doing business there. He said while the corridor currently has a 30 percent vacancy rate, he said 10,000 cars pass his storefront every day.
"It's only second to Carytown. It's one of the best-kept secrets," McDaniels said.
At the corridor's eastern end, the 100-year-old Scott's Funeral Home, which has bookended the strip since it moved there from Main Street in 1967, is in the throes of constructing a new chapel across the street before starting an expansion to its current building.
Scott's Funeral Home owner and director Richard Lambert said he's seen the community change a lot as different businesses have started to come into the area.
"We've seen quite a change with the type of businesses that are coming in, which is all good, because we were limited with mainly beauty shops and barber shops. Now it's becoming more diverse with the different businesses, and that's good for the community," Lambert said.
With the chapel construction set to finish in November, and the funeral home expansion set to begin thereafter, Lambert said his business is renewing its commitment to the neighborhood it has called home for half a century.
"The community seems excited about it, and glad that we are investing and staying in the community and putting our resources back into the community," he said. "We have been here since 1967, and the community has done well by us. We wanted to give back."
Lambert declined to disclose the cost of the two projects. The chapel project, which got underway last November, is being built by Ashland-based Haley Builders, with mechanical work by Virginia Beach-based Pace Collaborative and engineering by Chesapeake-based Site Improvement Associates. The architect is Virginia Beach-based Ivy Architectural Innovations, and Union Bank & Trust is providing financing.
The flip side
As investment continues along Brookland Park Boulevard, those behind the residential redevelopment around it are wary about the word getting out.
Keith Carter of K.C. Enterprises of VA, who has been restoring and flipping homes in the area for more than a decade, said the area has been appealing for its trifecta of buyer interest, the city's 10-year tax-abatement benefit for homebuyers, and the potential for state and federal historic tax credits.
"It's kind of a unique market to have all three of those things," Carter said. "That's a hard market to find. I can't say I know another area on the East Coast that offers all three: they're buying, you get the tax-abatement and you're in a historic tax credit area."
However, Carter said, there's a downside to such interest.
"You start getting investors from all over the country flooding that one area, they drive the prices up, and they pretty much ruin the market," he said. "It's a Catch 22. I guess there's no way to avoid it.
"I'm actually in the process of looking for stuff outside of Richmond, because history has told us nothing good lasts forever. It's hot right now, but it is definitely going to cool off," he said.
Josh Romano of Cobblestone Development, which has flipped more than two dozen houses in the area, said such attention can also make profit margins slimmer.
"You've got a lot of guys coming into the market, and they're paying quite a bit for a shell, where we used to buy a house for like $50,000 and sell for $210,000; people are buying now for like $110,000 and selling it for $250,000.
"It's the last good stock of inventory of homes near the city, besides Church Hill," he said. "And the commercial corridor is going to start reflecting like Scott's Addition or Carytown, but with more of the smaller shops. We're right there on the ground floor, so it's been exciting to watch over the past few years."
For Carter, who has flipped about 40 homes in the area since the turn of the century, the level of interest is a stark change from just a few years ago – and prompting him to look out for which area might be next.
"There's just so much property over there that needs to be renovated – that whole side of town has just been neglected for so long – I think we still have a good three to five years, hopefully," he said.
"I think it's going to spread. I think Battery Park is getting kind of congested right now, so I believe it's going to spread over to Highland Park," he said. "I think that's the next hot area."