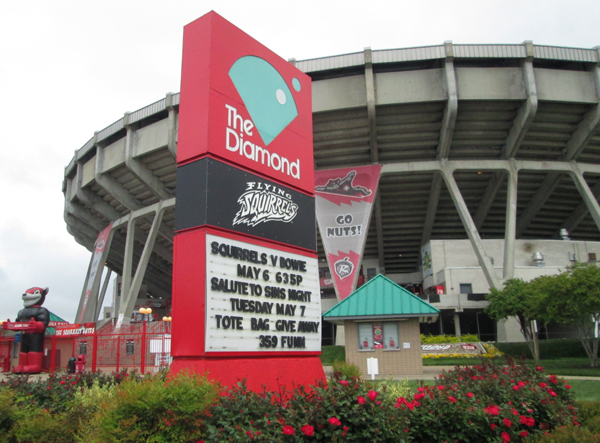 The future of professional baseball in Richmond became a bit clearer Monday.
The Richmond Flying Squirrels, VCU and Mayor Dwight Jones' office jointly announced the signing of an agreement yesterday afternoon to "guide the final stages of planning for a new ballpark in Richmond to be used by VCU and the Flying Squirrels."
The so-called memorandum of understanding was signed by the Squirrels and VCU and calls for a new ballpark to be built near the current site of The Diamond to the tune of $50 million to $60 million. The team and university would be the primary users of the new ballpark and the major contributors to the cost.
Monday's announcement does not specify the location of a future stadium, stating only that it will be close to the Diamond, but not on the city-owned 60 acres bounded by North Boulevard and Hermitage Road that the city is positioning for redevelopment.
Local reports previously said a complex that currently houses the Virginia ABC at 2901 Hermitage Road was a likely site for the ballpark.
The release didn't offer any specific specs of the future stadium, but said it would be similar in "size, quality, programming and amenities" to BB&T Ballpark in Charlotte and Coca-Cola Park in Allentown, Pennsylvania, and that the facility would be used for concerts, festivals and other events, in addition to baseball.
Monday's announcements included prepared statements from Jones, VCU President Michael Rao and Squirrels President Lou DiBella.
"This is a significant step forward for baseball in the Richmond region," Jones said. "More importantly, it advances our efforts for economic development along the Boulevard to generate revenue for schools and city services, consistent with our longstanding goals for Richmond."
The Squirrels would commit to stay in Richmond for a minimum of 30 years once a new ballpark is constructed. The team would pay rent of approximately $1 million annually – four times its current rent at the Diamond.
"The Flying Squirrels are excited by the progress and spirit of cooperation that is evidenced by this new agreement. We look forward to playing our games in a new ballpark, as tenants in a Boulevard area that is being economically developed to best serve the interests of our Greater Richmond community, neighbors and fans," said DiBella.
The announcement said other parties including the state, other localities and private developers and investors may be involved in the project.