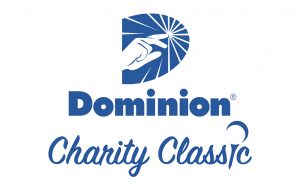 Beginning year one of at least four consecutive years of professional golf in Richmond, the inaugural Dominion Charity Classic began play this week at Country Club of Virginia's James River Course.
Put on by the PGA Tour Champions – the new brand for what used to be the Senior PGA and then the Champions Tour, the tournament is the second of three season-ending playoff events for the tour, which features well known pros over the age of 50 such as Bernhard Langer, Colin Montgomerie, Jesper Parnevik and others.
The event began to come together last year when Richmond-based utility giant Dominion Resources signed on as naming sponsor in a deal that will bring the tournament to CCV through at least 2019. Other big sponsorships followed from the likes of TowneBank, Bill Goodwin's Riverstone Group and 70 national and local sponsors.
The main attraction of the week-long event is the three-day, 54-hole Champions Tour playoff tournament with a $2 million purse, $305,000 of which goes to the winner. The tournament will feature a 53-player field that will be whittled down to a final group of 36 that will compete for the Charles Schwab Cup and an extra $2.1 million.
With the pro tournament set to tee off today after two days of pro-am play, BizSense caught up with Greg McLaughlin, president of the Champions Tour, to talk about the process that brought the tour back to play in Richmond for the first time since 1990.
The following is an edited transcript:
Richmond BizSense: How and why did Richmond land back on your radar for a tournament?
Greg McLauglin: When we put this playoff system in place in 2014, we wanted to create a little excitement going into the end of the year. We targeted Richmond as a potential market. It had hosted what was then the Senior (PGA) Tour from 1983 to 1990. It's a very strong market for golf, with a proven track record of supporting golf.
RBS: How specifically do you measure whether a market is a strong golf market?
GM: You're a measuring it on several factors. Our tour is very successful in markets where it's the only professional golf tournament being played in that market. That's probably No. 1. Second is when you have a strong golf community from both public and private golfers, people who enjoy the game and like to come out and support it. (Third), markets that support big events. This market supported the (UCI World Championship) bike race last fall. You have major universities and a strong community and corporate base here. We were lucky enough to connect with Dominion and they felt the power of what this product can do for their brand.
How did you decide on CCV over the other local courses you looked at, such as Independence and Hermitage?
We certainly look at all clubs. When you're making a decision like that you're evaluating several things. First and foremost is what the club's appetite is to host an event. That's usually coming from the board and the membership. No. 2 is playability of the golf course. Our events play between 6,900 to 7,100 yards in general. And how does it set up for a tournament: spectators and parking and flow. CCV was a tremendous club hosting the U.S. Amateur Championships in '55 and '75. And several of our current players were in that '75 U.S. Amateur Championship, so there was history there.
Talk about the logistics of setting up an event like this. Describe for people the infrastructure and manpower it takes to pull it off?
Inside the ropes, you want the 6,900 to 7,100 yards (worth of golf course). Outside the ropes, you want opportunities from a hospitality standpoint, for sponsors to be able to host clients, which helps grow the event. In addition, it's everything – let's call it the back of house. The Golf Channel production team – they'll have probably close to 100 people working on the telecast this week on the Friday through Sunday broadcast. You're building quite an infrastructure: starting tents, scoring tents and hospitality (areas). Overall interest in tickets and member support has been extremely high for a first year event. So we anticipate we'll have 15,000 people per day so you have to handle parking and ingress and egress, plus 800 volunteers.
How many players on the tour and who are the biggest stars and money winners presently?
There will probably be, during the year, anywhere from 150 different players that will have teed it up from one event to 26 events. Our players are legends of the game that were successful on the PGA tour level or the European Tour level that are over 50 years of age.
The number current money winner is Bernhard Langer. We have Colin Montgomeria, Mark O'Meara, Rocco Mediate, Jay Haas and Jesper Parnavick (who won last week's first playoff event). John Daly competed last week. He didn't advance. He turned 50 mid-year. Fred Couples was injured most of the year and was able to earn enough money to be able to be competitive, but was unfortunately not able to play a full season. It's a steady flow of guys that have been competitive on the PGA Tour.
What's the selling point for sponsorships on your tour, versus the regular PGA?
It's two fold. It's the customer entertainment experience with the Champions Tour players and the two-day pro-am. The corporations or individuals that support our tour look for a good client engagement experience. It's the only professional sport where you're playing side-by-side for two days. We have hall of famers, legends. So the pro-am experience for a golfer is tremendous.
The second part is the hospitality experience around the 17th or 18th green. And the other association falls into brand through the Golf Channel and on site. Having the individual companies make connection with those fans.
Another unique thing we offer is our honorary observer option. Two people walk with a group for 18 holes. We call it (the tour's version of) Jack Nicholson courtside seats.
How does the pro-am portion of the week set up? Who gets to play with these legends?
It's all sponsor related so individuals buy spots or companies buy a foursome and it's kind of a sponsor package. It's a four-and-half hour experience. Our pros use this as a practice round getting ready to play in the event. We have everyone who participates from beginners to very good players. Our players are extremely gracious in trying to help individuals develop and try to grow the game.
There's a lot in the media about golf's decline from a business perspective. What's your view on the industry and how does that translate/trickle through to your tour's bottom line?
Interestingly, in terms of professional golf and operating pro golf tournaments, I've not seen (a decline). As a matter of fact I've seen more interest. I've been in the golf business 29 years and I've seen a steady growth in the game. For sponsor interest, we added three new sponsors this year and added two new playoffs. We have 16 active hall of fame members that play our tour on an ongoing basis. This year we got (John) Daly. There's a steady flow of infusion out here.
We've had a tremendous amount of support on our tour. Certainly the entry point for amateurs and corporations is pretty reasonable. Certainly our corporate partners feel the benefits from a (business-to-business) standpoint. It's extraordinary that you can come to a market like Richmond in your first year and have a wildly successful event like we have this year.