With the city's count of breweries and cideries mounting, a local distillery is joining the wave of new tasting rooms and taprooms cropping up across Richmond.
Cirrus Vodka is putting the finishing touches on its new tasting room at 1603 Ownby Lane near The Diamond. The new space is set to make its debut sometime this month, hopefully before Dec. 25, said founder Paul McCann.
"We wanted to have a place where people could taste what we make right here in Richmond," said McCann, whose Richmond-based Parched Group LLC owns and operates Cirrus Vodka. "We figured this would be the best way for locals to try our vodka."
The new tasting room will occupy about 750 square feet of space in the nearly 7,000-square-foot facility that Cirrus leases. Plans call for the space to be updated to include a tasting bar, flat screen TVs and an outdoor patio area with a fire pit. McCann would not say how much Cirrus plans to invest in the project.
Sterling Roberts, a working partner and investor with Parched Group, said the company would have never considered a tasting room had state laws for how craft distilleries can publicly serve spirits not changed earlier this year.
Gov. Terry McAuliffe signed a series of bills passed by the House of Delegates and Senate in February that allows craft distilleries to pour 3 ounces per customer – up from 1.5 ounces. State craft distilleries can also mix full-ounce cocktails instead of just one half-ounce at a time. The changes to the law took effect July 1.
"That had a huge part in this," Roberts said. "Before, it didn't make any sense, but now, being able to pour more makes opening up a tasting room part of our business model."
The change in serving amounts was a huge victory for the state's growing craft distillery scene, which has more than doubled from about 14 in 2010 to nearly 40 in 2015, according to state records.
Prior to the laws being changed, the Virginia Department of Alcoholic Beverage Control announced in late January that distilleries could also host events, such as parties and weddings, at their facilities.
Cirrus Vodka is wasting no time taking advantage of the new laws. On top of selling its signature triple-distilled potato vodka, Gary McDowell, another working partner and investor of Cirrus, said there will be a few drinks that will be infused with fruits and bitters. He added the taste room will also sell mixes and Cirrus paraphernalia, such as shot glasses, hats and T-shirts.
"We want to be able to showcase what our vodka can do," McDowell said.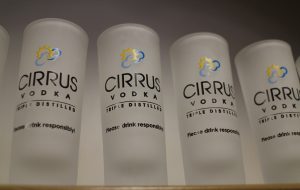 Given the 3-ounce limitation of how much Cirrus can serve a customer, Roberts said he hopes the distillery's taste room will be a pit stop to some of the area's surrounding breweries and wineries, including its Ownby Lane neighbors Hardywood Park Craft Brewery.
"This is going to be a much-needed addition," Roberts said. "I think we have the best vodka around, and now we have a place where we can showcase it."
With Cirrus's tasting bar preparing to launch, the business continues to grow its brand throughout the state and beyond.
It's been a learning process for the company, which saw its stills run dry in December 2012 after the firm lost its original digs at 2700 Hardy St. to foreclosure.
It has also welcomed new neighbors, as Cirrus' location on Ownby is now home to Richmond-based gin distiller James River Distillery.
McCann said the Richmond-made vodka can be found on ABC store shelves locally and throughout the state. He added Cirrus is also sold in Washington, D.C., and southern Maryland. It is in the process of working with a distributor to push its vodka into South Carolina, Georgia and Florida.