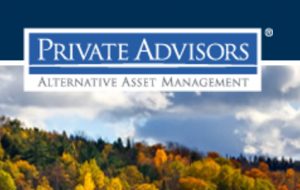 A local company is looking to gather another nine-figure fund aimed at betting on small businesses.
Private Advisors, which raises money from institutional investors, endowments, pension funds and wealthy individuals, is prepping an offering that will pool $125 million from investors, according to an SEC filing last week.
Dubbed the Private Advisors Small Co Coinvestment Fund-ERISA, the latest offering follows previous Private Advisors funds that buy directly into small businesses. The funds' investments typically are aimed at helping the businesses grow and gain value before unloading the fund's ownership stake, ideally at a profit.
Private Advisors President Chris Stringer did not return a phone message by press time. The company typically doesn't comment on active funds.
Last year the company capped off a $350 million small business investment fund and quickly launched another that had raised $95 million by summer, according to SEC filings.
The filing for the newest fund, dated Dec. 15, said the first sale in the offering had yet to occur. The minimum investment from outside investors is $500,000.
Private Advisors was founded in 1997 by Lou Moelchert, who for decades managed the University of Richmond's endowment. The firm became a subsidiary of financial giant New York Life in 2010, when New York Life purchased a 60 percent stake.
In addition to small companies funds, Private Advisors has raised hundreds of millions in other funds over the years, according to SEC filings. They invest in natural resources and other niche segments.
The firm manages $5 billion in assets, according to its website, and employs dozens in Richmond at its office at Riverfront Plaza. It also has offices in New York, Cleveland and Austin.