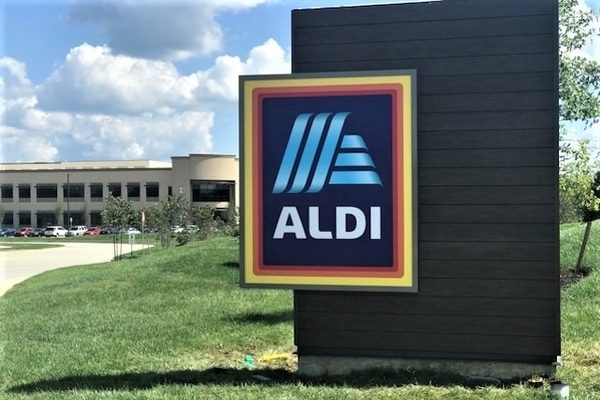 A rapidly expanding German grocery chain has a massive new hub from which to continue its growth around the region.
Aldi, which has opened eight stores around the Richmond market since it arrived here in 2015, commenced operation today at its new 562,500-square-foot distribution facility and division headquarters at 6801 Aldi Way.
"We are excited to ship out groceries for the first time in our new facility," said Chris Daniels, vice president of the company's Petersburg division.
The $57 million project, which was announced two years ago, is part of Aldi's expansion initiative that will invest $5 billion to remodel and grow to 2,500 stores in the U.S. by the end of 2022. The expansion aims to create 25,000 new jobs nationwide.
Charlotte, North Carolina-based A M King handled design and construction of the facility, which is built to eventually serve the 70 to 80 stores the grocer has planned across Richmond-Petersburg, Hampton Roads and Eastern North Carolina. Richmond's Aldi's previously were served from a hub in Frederick, Maryland.
"Aldi has been a longtime client of ours," said Resa Goldberg, spokeswoman from A M King. "We've done a lot of projects for them all over the country."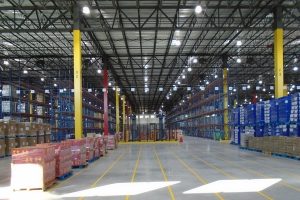 The Dinwiddie facility sits on about 80 acres that Aldi purchased for $3.6 million in 2017. It includes features such as docking equipment, raking for 25,000 pallet positions and a solar system that will run the majority of the refrigeration systems.
The center employs more than 150 workers in the area. Daniels said that some of the employees have been with the company for a couple of years and the majority of new hires are local.
Aldi is known for its low prices, which are achieved by keeping down store overhead. That's done in part by charging for grocery bags while encouraging customers to bring their own, using a shopping cart rental system, and streamlining shelf stocking by not removing products entirely from their wholesale packaging, which saves time and allows for smaller staff sizes.
It also cuts costs by carrying mostly only its own in-house brands, such as Fit&Active, Elevation and Pueblo Lindo.
"We're private-label pioneers," Daniels said, adding that more than 90 percent of the products in its stores are Aldi-exclusive brands.
Daniels added that the company has more stores in mind for the Richmond region, where it has outpaced its German rival Lidl by opening locations at a faster clip.
Lidl has six stores open in the region and has acquired land for several others.