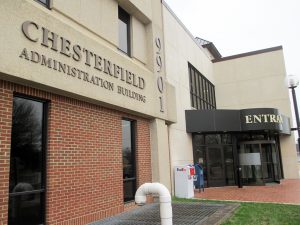 Chesterfield
The planning commission meets Jan. 15 at 6 p.m. Business on the agenda includes a public hearing on Traditions of America's proposal to develop a 250-home 55-and-up community on 104 acres at 10600 Hollyberry Drive. Full agenda here.
County administrator Joe Casey delivered his annual State of the County address to the Chesterfield Chamber and ChamberRVA last month. Video of his remarks can be viewed here.
Goochland
District 2 Supervisor Manuel Alvarez Jr. was elected chairman and District 1 Supervisor Susan Lascolette was elected vice chair for 2019 at last week's regular meeting. Alvarez previously served as chairman in 2014 and succeeds District 5 Supervisor Ken Peterson.
Hanover
Supervisors meet Wednesday at 3 p.m. Business includes chairmanship elections, committee appointments, a presentation from Partnership for Housing Affordability and a legislative update. Full agenda here.
Henrico
Supervisors meet Tuesday at 7 p.m. The agenda for the board's first regular meeting of the year consists primarily of chairmanship elections and appointments to various commissions.
Richmond
The planning commission meets Monday at 1:30 p.m. Items on the consent agenda, typically approved without discussion, include a request from developer Louis Salomonsky to amend an existing special-use permit to add 55 units in place of commercial space to The Cooperage apartments on Overbrook Road. The additional apartments would bring the total unit count in the property's main buildings to 172. The full agenda is available here.
City Council's Organizational Development Standing Committee meets Monday at 5 p.m. Business includes ordinances to adopt a new pay plan for the city, additional retirement allowance for some city officials and related items. Agenda available through the city's Legistar system.
The urban design committee meets Thursday at 10 a.m. Business includes final location, character and extent review of electrical enclosures at 50 N. 17th St., a new middle school at 6300 Hull St., new construction of an elementary school at 1745 Catalina Drive, outdoor dining encroachments at 1548 E. Main St and associated with Brenner Pass restaurant at 3200 Rockbridge St., and trail improvements at 1704 Pump House Drive. The committee meets in the fifth-floor conference room at City Hall.
Council meets in regular session next Monday, Jan. 14 at 6 p.m. Items on the consent agenda include a request for legislation to establish a new "affordable housing" division within the state's new Virginia Department of Housing and Community Development.
Business on the regular agenda includes councilmember Kim Gray's proposal to rename the Boulevard between Brookland Parkway/Westwood Avenue and Byrd Park as "Arthur Ashe Boulevard"; a special use request for Loughridge & Company's proposed 224-unit apartment complex on Brook Road near Virginia Union University; and a community unit plan amendment to accommodate Dominion Diversified Real Estate Group's proposed 59-unit townhome development on Forest Hill Avenue behind Stony Point Shopping Center. Full agenda here.