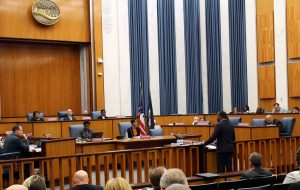 Airport commission
The Capital Region Airport Commission meets Tuesday at 8 a.m. Business includes a rules and regulations amendment regarding abandoned motor vehicles. The commission meets in the first-floor conference room at Richmond International Airport.
Chesterfield
The county transportation department launched a new website, Streamline 360/288 Improvements, dedicated to a multiyear, phased plan of nine roadway projects along Route 360/Hull Street Road between the Route 288 interchange and Winterpock Road, and along Route 288 between Genito Road and the Commonwealth Centre Parkway interchange. The site includes information about each project, the first two of which is expected to begin construction in 2021. The site can be viewed here.
Goochland
The planning commission meets Thursday at 6:30 p.m. Business includes a request from Kevin and Tammy Wolfe to rezone 13 acres from agricultural to residential rural use to create an additional lot at 2678 Dogtown Road. Full agenda here.
Henrico
Supervisors adopted a $1.3 billion budget for next fiscal year based on the current real estate tax rate of 87 cents per $100 of assessed value. The budget represents an increase of 5.7 percent from the current year's plan with a $918.7 million general fund, up 5.4 percent from this year. The budget allocates $322.7 million for capital projects including a new J.R. Tucker High School and a new Highland Springs High School, both scheduled to open in fall 2021. More budget details are summarized here.
Richmond
City council is scheduled to adopt the proposed budget for fiscal year 2020 at a special meeting Monday at 1 p.m. A budget work session is scheduled to start at 9 a.m. in council chambers.
Councilman Parker Agelasto announced he will resign his seat representing the Fifth District effective Nov. 30. The announcement follows several legal actions challenging his purchase of a residence outside the district. Agelasto's resignation after nearly seven years on council would leave a year left to be served on his current four-year term. Agelasto's statement announcing his resignation can be read here.