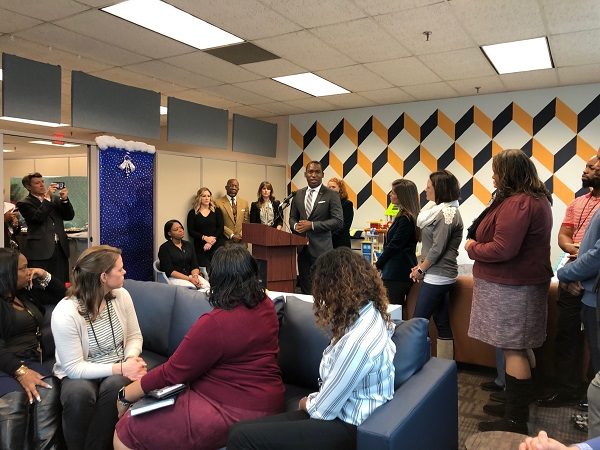 Mayor Levar Stoney gives remarks at the opening of the renovated Child Protective Services room. (Photos courtesy Whitney Campbell/ENV)
Businesses, nonprofits pitch in on city foster care room renovation
Richmond's social services department opened its newly renovated Child Protective Services room in a ceremony with Mayor Levar Stoney last week. The renovation, valued at about $15,000, was a volunteer effort by a group representing the city's faith, nonprofit and business community.
Donors and volunteers transformed the city's multipurpose room into four calming and age-appropriate zones for children in the custody of Richmond Social Services while they await foster care placement. Principals in the effort included design firm ENV's Richmond office, which donated $6,000 in services, local nonprofits RVA Comfort Cases and Worthdays, and churches in the For Richmond network.
Costen Floors owner Ralph Costen donated and installed a new floor. Home Inspections of Virginia installed sound-proofing panels. The Soho Center donated books, and Build-A-Bear donated teddy bears. RVA Comfort Cases will be stocking and organizing supplies including diapers, clothing and blankets. Second Baptist Church, Area 10 Faith Community, Movement Church and LUX Church also contributed to the project.
Starview Village project at Stonebridge advances; other votes vary
The Chesterfield County Planning Commission recommended approval of SRBF LLC's Starview Village project. The rezoning request, which now goes to county supervisors, would allow up to 1,250 single-family and multifamily residential uses on nearly 110 acres next to Stonebridge.
Also at its meeting last week, the commission recommended denial of a rezoning request for Courthouse Landing, a mixed-use development with a hotel, 400,000 square feet of retail and office space, and hundreds of new homes planned for 122 acres southeast of the Route 288-Iron Bridge Road interchange.
Commissioners endorsed a 60,000-square-foot medical office building proposed on a 1-acre site on Koger Center Boulevard just west of Mall Drive. The $19 million building would house Virginia Physicians for Women's administrative headquarters, surgical center and Midlothian clinic.
The commission deferred to its Jan. 22 meeting a request from Performance Sports Group LLC to rezoning and conditional-use permit to allow a commercial indoor recreational use on nearly 5 acres in the area of South Old Hundred Road, Kelly Green Drive and Genito Road.
Manakin Towne project deferred in Goochland
Goochland supervisors deferred Towne and Country Partners' permit requests for its Manakin Towne project to its Feb. 4, 2020, meeting. The $100 million mixed-use development would consist of a mix of commercial uses and 245 residential units on 40 acres west of Broad View Shopping Center at 68 Broad Street Road. The case previously had been deferred from the board's Dec. 3 meeting.
Chesterfield launches environmental stewardship web portal
Chesterfield launched its new environmental stewardship web portal highlighting work the county is doing to protect its ecosystem and natural resources. The portal is designed to be a one-stop shop for all of Chesterfield's environmental initiatives in collaboration with different departments and organizations.
Navy Hill advisory group's report due today
The Navy Hill Development Advisory Commission is scheduled to deliver its report to Richmond City Council today (Monday). The commission planned to post the report on its website after council receives it.
The group, which has spent recent months reviewing the $1.5 billion plan to redevelop the Coliseum and properties beside it, held an additional working meeting Sunday to finalize the report. A series of public hearings were held last week.