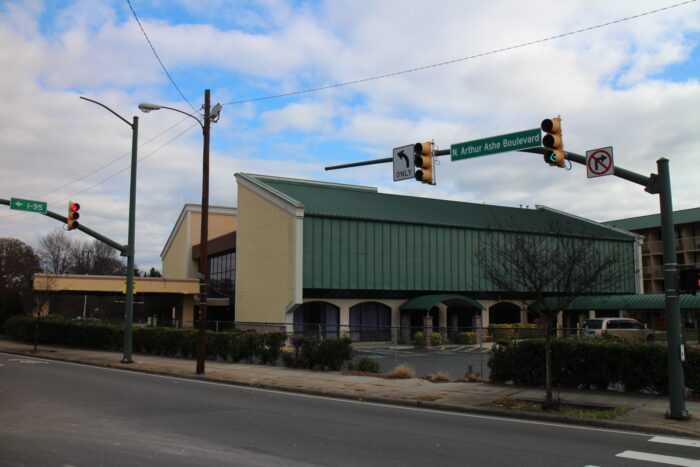 Just as The Diamond isn't long for this world, a longtime hotel just north of the ballpark is also headed for a date with the wrecking ball. (Mike Platania photo)
The Quality Inn Central hotel at 3207 N. Arthur Ashe Boulevard is under contract to be sold to Dallas-based Trinsic Residential Group.
The firm is planning to raze the hotel and build a 375-unit apartment building on the triangular lot bound by Arthur Ashe Boulevard, Hermitage Road and Interstate 64.
The plans for the site were announced Monday night at a meeting held jointly by the neighborhood associations for Rosedale, Sherwood Park, Ginter Park, Bellevue and Greater Scott's Addition.
Trinsic is represented by Hirschler Fleischer's Jeff Geiger, who presented the plans to the associations.
Per its website, Trinsic develops both urban and suburban apartment projects and has offices in Texas, Maryland, Arizona, Florida, North Carolina and Colorado – states where it also has projects under development. Geiger said the firm is also working on a project in Chesterfield County but didn't disclose details.
Trinsic's Arthur Ashe Boulevard project would reach five stories and include a 510-space parking deck that butts up to Interstate 64. The apartment mix would consist of 198 one-bedroom units, 168 two-bedroom units and nine three-bedroom units. No commercial space is planned.
Geiger presented examples of the type of architecture Trinsic is considering for the site but did not identify the project's architect. He also noted that no final decisions have been made regarding design.
The Quality Inn sits on two parcels totaling just over 4 acres: a 3.5-acre lot at 3207 N. Arthur Ashe Boulevard where the hotel stands, and a 0.6-acre parking lot at 3315 N. Arthur Ashe Boulevard. Geiger said that Trinsic is under contract to purchase both parcels.
It's unclear what the firm will pay for the property.
"I want to be upfront," Geiger said at Monday's meeting. "To get control of this property is not a small dollar amount."
The property is currently owned by DK Hospitality LLC, an entity tied to Bill Patel. Patel's firm bought it in 2007 for $2.5 million and oversaw a renovation of the hotel's façade in 2013. The property was most recently assessed by the city at $3.7 million.
Trinsic is planning a rezoning of the land from RO-3 Residential Office and B-2 Community Business to TOD-1 Transit-Oriented Nodal District. Geiger said the rezoning application is expected to be filed in the next two months.
A little over 24 hours before the meeting started, the Richmond Fire Department put out a fire at the hotel that left 26 of the Quality Inn's 176 rooms uninhabitable. No injuries were reported, per RFD. Rooms were still available at the hotel as of Monday for $81 per night, according to online listings.
The Quality Inn site is flanked by upcoming development projects both large and small. To its south is the 67-acre Diamond District that the city is planning to redevelop into a $2.4 billion complex to include a new stadium for the Richmond Flying Squirrels. To the east is the former Builders' Exchange Association building that local general contracting firm Daniel & Co. is turning into its new headquarters.