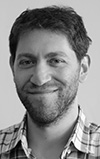 BizSense founder Aaron Kremer is a sought-after speaker at corporate and educational events thanks to his engaging personality, deep knowledge and thoughtful analysis of business trends and news, and practical approach to presenting information.
Aaron founded Richmond BizSense on Jan. 1, 2008. The daily news site has grown steadily in audience, staff, coverage and profitability, and it regularly scoops the local newspaper. By serving up the best local and national news every day, Aaron has built BizSense into an invaluable resource for executives, business owners, policy makers and entrepreneurs in Richmond and beyond.
Aaron's work has also appeared in the Los Angeles Times, TheStreet.com and Reuters, and he has made many television appearances to explain business news and business trends.
To book Aaron for your event, contact Linda Dunham at [email protected].
Other Speakers
BizSense reporters and staff members have decades of combined experience in journalism. Explore our staff page and email [email protected] to book an appearance for your educational or community event.
Richmond BizSense
E-mail: [email protected]
Address: 23 W. Broad St. Suite 401, Richmond, VA 23220