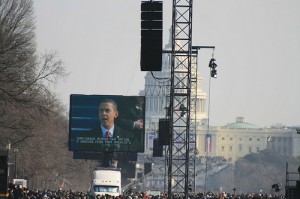 The buzz of Obama-mania stretched down to Richmond yesterday, and a handful of local businesses saw a boost of tourism dollars.
Trains between Richmond and Washington were sold out all day yesterday, according to a station representative, and the Amtrak station was twice as busy as a normal Tuesday. Sales were also brisk over the weekend, but no extra trains were running, said a station representative who gave her name as only Sandy.
"Everybody was happy," she said. "Most of them were people that lived here. Some came from out of town and rode up with locals," she said, adding that there was a buzz in the air.
The Dunkin' Donuts across the street from the Staples Mill station also reported a far busier day than normal.
Meanwhile, more than 200 students from Alabama A&M crashed four-to-a-room at the Omni Hotel in Richmond.
"They couldn't find any place closer, and they only wanted to drive so far from Alabama," said Adam Roush, a front desk manager at the Omni.
A concierge at the Jefferson Hotel said it was also busier with inauguration guests.