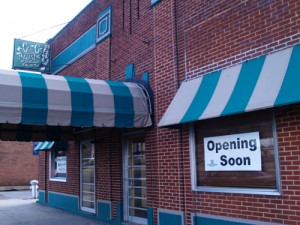 Out of Bounds Restaurant and Sports Bar has sat lifeless on Broad Street for just about a year, but a new restaurant is in the works for the property.
Interior renovations have been underway for the past few months, and manager Rafid Stanley said they are hoping to open in March as Gus's Bar & Grill.
The owner is Josephine Flemotomos, sister of restaurateur Johnny Giavos [of Gibson's Grill and Kitchen 64]. The new restaurant is her first and is named after her father, Stanley said.
The building is owned by the Giavos family.
Stanley said they want to cater to more of a dining crowd, so the pool tables and dart boards have been removed. But they are keeping other sports bar amenities: Stanley said they recently put up new televisions for watching games.
"It is still a sports bar but with much better food, not just fried wings and chicken tenders," he said.
The menu will offer items with a touch of Mediterranean and Greek flavor, Stanley said. The pub has started hiring and plans to have about 30 employees.