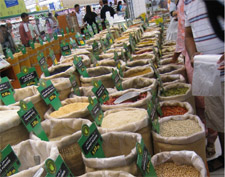 Even the marble-encrusted board rooms of Richmond can resemble the flea market these days.
Consumers and businesses are haggling for better prices or discounted second or third items, according to a series of Richmond BizSense interviews conducted over the past several weeks. Business owners and managers say it's a dangerous game, because shoppers will expect similar price cuts even when the economy rebounds.
Some industries, such as advertising sales, have always been a bit of a horse trade, where prices are more like suggested starting points. But bargain-hunting as standard practice is quickly spreading. Commercial landlords, for example, are offering months of free rent to lure new tenants. And several lawyers say that after a case has been completed, businesses are haggling to get the legal bill reduced by as much as possible, sometimes upward of 30 percent.
Terry Brisbane, a vice president with the market research firm Alan Newman Research, said some projects her firm bids on are now barely profitable.
"Clients are saying that because their budgets are getting cut, that we should be able to cut ours," she said. Some costs can be eliminated, but eventually a project is no longer profitable.
"Sometimes you just do the work to keep people working," Brisbane said, adding that last year at this time, about 10 percent to 15 percent of businesses were asking for a discount. Now that figure is closer to 35 percent, she said.
"Everyone seems to want it cheaper, even than two months ago."
The frugality fever is affecting consumers, too. A recent survey by America's Research Group found that about 72 percent of customers haggled with a retailer, compared with 56 percent the previous year. According to the same study, about 80 percent were successful at getting a better price, compared with about half the previous year.
In better times, consumers were likely to haggle over certain big-ticket purchases, such as homes or vehicles. Now they're more apt to try to work a better deal for discounts on everything from sneakers to vacation rentals. It seems likely that Circuit City's liquidation has just upped the ante on the bargain-hunting mentality, at least for electronics.
Businesses are coping with a variety of strategies, and many are seeking discounts while trying to protect their own prices.
"Companies are demanding more for the money," said Mason Gates, who started Internships.com, a startup website that tries to match internship-seekers with internships.
Companies and universities that pay to post jobs are more often asking for a discount in the form of an extra year free.
"Some schools say they really want it [for their students] but can't afford it. We asked ourselves, 'How can we be creative?' and offered a 25 percent discount for a two-year subscription," Gates said.
Although most evidence points to downward pressure on prices, there are some contrarians. An Institute of Management and Administration survey of lawyers found this month that only 3 percent said they expected to decrease billing rates.
Jason Moreau, with the search engine marketing firm NetSearchDirect, said about 30 percent of his new prospects discuss price right away. But that number might not rise too much more, he said, because of Richmond's small-town way of doing business.
"People may feel they have a personal relationship," Moreau said. "That could make it uncomfortable for someone to ask a friend to come back with a lower price. And what might that say about their business?"
More reading:
Let's make a deal, The Economist
Don't be afraid to haggle on prices, Baltimore Sun
Aaron Kremer is the BizSense Editor. Please send story tips to [email protected]