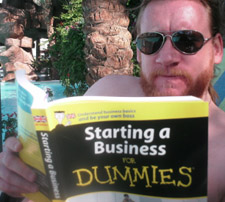 Businesses usually sprout during recessions – when laid-off workers give entrepreneurship serious thought – but the volume of new businesses in Richmond seems to be declining.
Richmond has issued 111 business licenses this year, a 29 percent drop from the first six weeks of 2008, when the city issued 157 licenses.
Entrepreneurs are opening the same types of business, but they aren't opening as many of them. Contractors, retail merchants and personal services were the most popular types of businesses started in the beginnings of 2008 and 2009, but the number of licenses issued for each of those categories has decreased.
In the first six weeks of 2008, the city issued 40 business licenses to contractors. In the same period this year, that number fell 57 percent to 17 licenses. The decline in new contracting businesses reflects the overall decline in both residential and commercial construction. (Read more about the volume of building permits here.)
That's a bad omen for the Richmond economy, because it means companies that rely on growth – everything from cable installers to sign makers – will have fewer sales prospects to chase.
Licenses issued to businesses offering personal services, which include everything from driving schools to fitness trainers, fell 45 percent in the same period, from 31 to 17. And licenses issued to new retail merchants fell from 15 to 11.
The numbers of licenses granted to new restaurants shrank as well, from six to four. In the first six weeks of 2008, the city issued six licenses to food peddlers. This year, the city hasn't issued any.
Ron Bew, director of the Small Business Administration office in Richmond, said the drop in new business licenses isn't because of a lack of interest.
"We've seen an increase in phone calls," Bew said. "Two-thirds of our phone calls are on how to start a business."
The office just started keeping track of the number of calls related to starting a new business and wasn't ready to give an exact count. Bew said the interest is definitely there, but the financial realities of starting a business might be holding some back.
The number of SBA-backed loans serviced by the Richmond office (which includes all of Virginia except Fairfax and Loudoun counties) has fallen 49 percent since Oct. 1 compared with the year before, Bew said. The total value of SBA-backed loans has fallen 55 percent during the same period, from $89.4 million to $39.9 million.
"Many business and customers are complaining the banks aren't working with them, but nationwide the stimulus package will increase the guarantee percentage in case of loss and reduce the fees," Bew said. "I expect the numbers to pick up now."
The American Recovery and Reinvestment Act passed by Congress allocates $730 million to the SBA nationwide, with $375 million set aside for temporary fee reduction and increasing loan guarantees. Another $30 million is going into the SBA's micro-loan program, which provides technical assistance and loans of up to $35,000 to new businesses.
Other businesses started this year fell into one of 36 other categories, each of which included one to five licensees. The list includes three computer system designers, two travel agents and one tattoo parlor.
During the same period last year, businesses outside of contracting, retail and personal services also were evenly distributed among a large number of categories, including a health club, a recording studio and a movie producer.