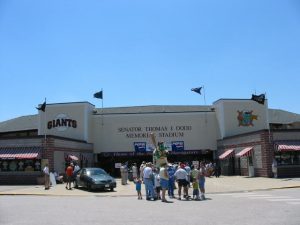 Last month, Bryan Bostic of Richmond Baseball Club LC announced they planned to buy a AA baseball team in Connecticut to replace the AAA Richmond Braves.
Their plan to buy  the Connecticut  Defenders is closer to becoming a reality, despite no guarantee that the stadium slated for Shockoe Bottom will be built.
According to local newspaper The Day, Norwich City Council will consider a resolution next Monday that would assign the lease of Dodd Stadium to Richmond Baseball Club.
The Defenders' current owner Lou DiBella said the team could be sold to Richmond by early April, according to The Day.  The sale is still awaiting approval from the Eastern League, which will likely require either a new stadium or an upgraded Diamond as a condition of the sale.
The Times-Dispatch previously reported the expected purchase price will be $15 million.
The Defenders current lease in Norwich ends in 2012, but there is a buyout provision that allows the lease holder to terminate early for a penalty of $140,000.
According to previous statements, the investors would move the team to Richmond for the 2010 season. The team would play at the Diamond until the new stadium is finished in 2011 or 2012.