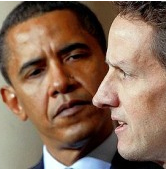 The Small Business Association might not be searching for a new slogan, but it would do well to consider "get 'em while they're hot."
The SBA loan, an often-used source of financing for startups of all shapes and sizes, has over the past year become far harder to get. That has slowed business at a host of other companies that rely on growth, such as commercial real estate firms.
But Monday, the Obama administration announced that it was going to waive the fees on SBA-backed loans, increase the guarantees to up to 90 percent of a loan's value and even refund fees on loans that were issued since mid-February. That last perk will only affect about 20 recipients of loans through the Richmond office, which handles most of the state outside Northern Virginia.
About 60 people called the Richmond SBA office Monday, according to officials.
"What we're doing here may not be a cure-all and be-all, but it's another way to give incentives for small businesses to take that step to either expand or add an additional employee," said Scott Dailey, an SBA loan director.
Some of the callers were bankers wondering what the changes might mean. Others were small businesses seeking seemingly nonexistent financing.
Indeed, loan volume at the end of 2008 and into 2009 has been about half of what it once was, both in Richmond and across the nation. (Read more about the slowing of business here.)
The administration also will buy $15 billion in  SBA-backed loans on the secondary market, which should free up banks to write new loans.
"That should put lenders in a much better position to lend money," Dailey said.
So how much can loan recipients save?
The average loan issued through the SBA's Richmond office in 2008 was for $263,000. Loans for dollar amounts less than $150,000 formerly carried a guarantee of 85 percent. That meant the 3 percent SBA fee amounted to about $6,700, not an insignificant sum to a small business.
The maximum SBA guaranteed amount is still $1,500,000, although borrowers can take out up to $2 million.
But the new policies are temporary, Dailey said, lasting as long as there is money to subsidize them. "The SBA estimated that they may last until the end of this year," Dailey said. "But if volume increased, they could be used up sooner."
One technicality for entrepreneurs to note: The act prohibits funds from being used by state or local government, or by entrepreneurs in the gambling, aquarium, zoo, golf course or swimming pool businesses.
More reading:
Small-Business Lending Gets a Boost, Washington Post
Aaron Kremer is the BizSense Editor. Please send story ideas to [email protected]