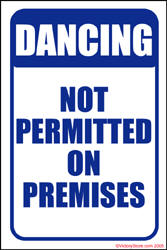 You can have a drink, and watch the live entertainment at County Rib & Ale House in Chesterfield.
But you can't dance.
According to the Midlothian Exchange , the five restaurant investors received summons in early March for two illegal dancing incidents in February.
There is a county code in Chesterfield that requires restaurant owners to acquire a $25 night club permit to allow dancing along with serving alcohol and hosting concerts. The permit can be denied for a variety of reasons. County Rib & Ale House has been denied because police are frequently called to the restaurant, one of the owners said.
A nearby Mulligan's restaurant was also cited last month for allowing dancing without a nightclub permit. Both restaurants have "No Dancing" notices posted on the front door.
A major with the Chesterfield County Police Department said the department had been called to County Rib & Ale more than 50 times since last January, mostly to break up fights and other disturbances.
The restaurant owners and musicians  say the "footloose law" threatens their livelihoods. 
Patrons have started a petition to change the law.