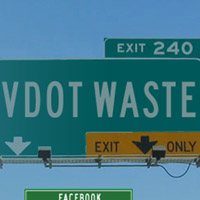 Frustrated over a lack of external audits for the Virginia Department of Transportation, state Senator Mark Obenshain (R-Harrisonburg) has launched a website called "Expose VDOT Waste" that invites citizens to report wasteful spending by the department. The site also has a companion Facebook group with more than 400 members.
The site is partly in response to VDOT's announcement that they are planning to close several interstate rest stops and make other service cuts to address a $2.6 billion shortfall, according to a story on WHVS Channel 3 News website.
From the article:
"We'll look into every tip sent our way," says Obenshain. "And where there's waste, we'll publicize it and hold VDOT's feet to the fire."
The article goes on to quote a VDOT spokesman saying that the department welcomes the scrutiny. The spokesman said also said that they are spending taxpayer dollars as best as possible.
Obenshain disagrees, for example he said keeping rest stops open should take priorty over a recently announced pilot program to provide rail service from Lynchburg to Washington D.C.
Related news from Richmond BizSense: Monday Q&A: Will Virginia's highway bailout be enough?