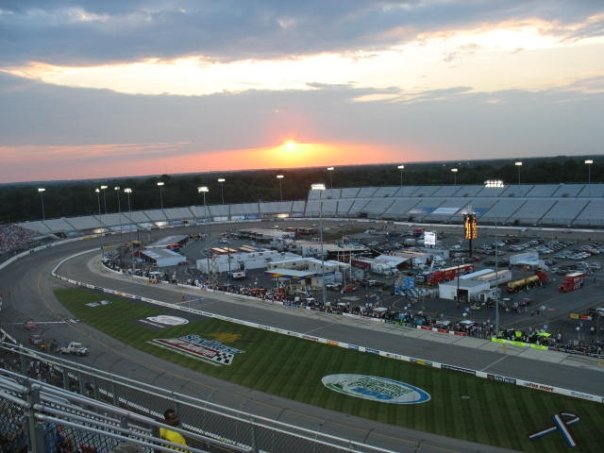 Hotels across the metro region have dropped rates to lure NASCAR fans to Saturday night's race at Richmond International Raceway.
But even at lower prices, hotel managers expect to have plenty of empty rooms.
"Quite honestly, I think the economy has really impacted people's decision to come to the race this year," said Fritz Schwartz, general manager of the Westin Richmond in the West End.
Schwartz said there has been very little response to Westin's special offer; the hotel is offering rooms for $179 during NASCAR weekend, about 5 percent off the regular rate.
This is the first race weekend for the Westin, which opened in December. Schwartz said the hotel had originally planned to charge $299 a room this weekend, but like many other hotels decided to drop the high premium normally associated with Richmond's semiannual race.
"It's not so much about dropping the rate to get swarms of people, it's just to keep up with what your competitors are doing," Schwartz said.
Race weekend is usually a boon for the local hotel industry, consistently the most occupied days of the year in terms of hotel usage. Last minute fans often book rooms as far away as Fredericksburg or Williamsburg, but this year there is plenty of vacancy close to the track.
RIR, in conjunction with the Richmond Metropolitan Convention and Visitor's Bureau, started a campaign last month urging hotel owners to lower rates for the upcoming race. The raceway has a list of about 70 area hotels on its website that agreed to participate.
Some hotels are offering race weekend rates 20 percent to 50 percent less than in 2008, and many have also eliminated minimum stay requirements, according to RIR's website.
The Doubletree Hotel Richmond Downtown is usually booked for race weekend months in advance, but this year there are still rooms available, said General Manager John Cario. For last year's May race, the hotel charged $250 a night; this year, the highest rate is $179.
The Doubletree is experiencing attrition from NASCAR teams as well.
"We have a few small teams with us, but a lot of the teams due to sponsorship deals didn't get back this year," Cario said.
Part of the reason bookings are down is because of an increase in the hotel supply, Cario said. The room supply in the downtown and airport segment was up more than 13 percent in the first three months of 2009 compared to the same period last year, according to Smith Travel Research.
The Clarion Richmond Airport Hotel reduced its rates and dropped the minimum two-night stay required in the past, said General Manager Mike Turner.
Even at $119 a night, Turner said bookings remain slow compared to previous races.
"Typically the hotel would be full this weekend or very close to it," Turner said. "This particular weekend, we have plenty of rooms available."
Neal Kalyan, general manager of Americas Best Value Inn on Williamsburg Road, tells a similar story.
"We dropped our rates, and we're still not getting reservations," Kalyan said.
The hotel is offering $90 rooms, about 30 percent off the race rate of previous years. Kalyan said for previous races the hotel is about 90 percent occupied but so far this week only 40 percent of rooms are booked.
"We've actually been getting cancellations," Kalyan said, "People are already changing their minds and not coming."
Richmond isn't the only NASCAR destination facing a drop in attendance. Plenty of fans stayed home during last week's race at Talladega, Ala. The race drew about 142,000, compared to the normal 165,000, according to the Birmingham News. Racetracks in Atlanta and in Fontana, Calif. reached only 60 percent to 65 percent of capacity during this year's cup races. Daytona and Bristol both sold out later than usual.
BizSense  could not reach RIR officials to ask whether they were expecting to sell out. But if lackluster hotel reservations are an indication, this may be the second Sprint Cup race at the track to fall short of selling out in more than a decade. Last fall's race was the first, partly due to rainy weather.
There is a slight chance of thunderstorms this weekend, but the darkest clouds hovering over RIR appear to be the ones that are economic in nature.