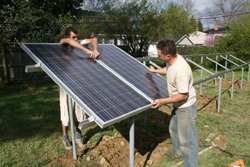 The sun hasn't set on solar incentives yet.
The General Assembly rejected a $2 million tax credit program for renewable-energy systems this past session, but that's small change compared with the $39 million in federal stimulus money the state of Virginia wants to dedicate to fund development of solar and wind energy systems.
That is more than half of the $70 million the state will receive from the U.S. Department of Energy to fund energy programs. The state Department of Mines, Minerals, Energy is in the process of divvying up those funds and seeking final approval from the federal energy agency, according to the Washington Business Journal.
Officials said they plan to divide the $39 million three ways: one pot for local schools and government buildings, one pot for state-owned buildings including universities and prisons, and another pot to pay back residents and business who install systems. The programs could start as early as July, according to state officials.
Jeff Yago, who has headed DTI Solar in Gum Springs for more than 30 years, said incentives for residential and commercial systems would be helpful to the burgeoning state solar industry.
"Virginia doesn't have anything along the lines that other states do; for example, Maryland and North Carolina have good incentives for solar," Yago said. "Because electric rates are fairly low here in Virginia, it would be nice to have something help to make systems more economically attractive to homeowners."
Yago said even though many industries are suffering through the recession, solar is still growing because of continued media-driven interest in "green" energy. His business, which designs and installs systems across the country, has grown steadily every year and hasn't dipped during the recession.
"We tend to deal with higher-end clients," Yago said. "Most of our projects I would classify as custom design work."
Yago also offers training programs to people interested in getting into the solar business. He said the number of people contacting him about training has quadrupled from the previous year.
One of the solar business newcomers trained by Yago is Livewire owner Henry Clifford.
Clifford has incorporated solar installations into his existing technology integration business he started eight years ago. At the time he said he took a gamble on an emerging trend, and now he is confident solar is the next big bet.
"The adoption curve is well established," Clifford said. "We are in the early adopter phase — these folks may be 'green' with a lot of money, or they think it is neat, they want publicity for their company or they are looking for a tax shelter."
Clifford is preparing for the spike in demand when the state decides how to spend the energy stimulus.
"I'd say demand right now is fairly flat given the environment, but I anticipate in the coming months we will see a tremendous spike," Clifford said. "The way we are positioned is perfect because we can scale up as soon as the market decides to scale up."
Clifford said he has the capability to execute one to four jobs a day, but he is still waiting for the "skies to open." He said that government support is the key to unlocking the flood gates. With solar energy three times move expensive per unit than Dominion's rates, he said government incentives are needed to kick-start the industry.
"Germany is a world leader in solar," Clifford said. "And that's the way they did it."
Bernie Stanley is another recent addition to the local solar industry. BizSense profiled his business Shockoe Solar in January. He had just completed his first installation and was the only employee.
Now he has completed six projects and hired three employees.
Stanley is slightly more conflicted when it comes to government subsidies for solar.
"I am very excited for Virginia to have an influx of funds for renewable energy," Stanley said, "but I would rather see solar and renewable energy survive and thrive as a natural progression with capitalism as the mechanism."
Stanley recently finished the first residential photovoltaic system to go through the permitting process in Hanover County. He is currently working on a project with the Better Housing Coalition to install solar photovoltaic electricity and solar hot water systems on a new day-care center being built in Richmond's Northside.
He anticipates hiring two additional employees to take on the anticipated increase in prospects coming later this year.
Stanley has been working hard to get his name out there by registering as a vendor with the state, running advertisements and setting up an information booth at the Strawberry Hill Races and the Richmond Earth Day event. He said his competitors are doing the same.
"I have architect and engineers tell me they were getting ready to talk with someone from North Carolina or Maryland," Stanley said. "They don't know we are here so we are screaming out as loud as we can."
With a well-funded slate of incentives coming their way, the spotlight is starting to shine on the the area's many forward-thinking solar startups.
It isn't just happening in Richmond, either. The Virginian-Pilot reported last week about growing alternative energy industry in Hampton Roads.