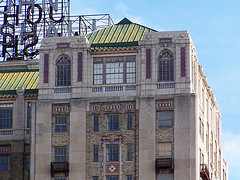 There have been a handful of headlines over the last few years announcing a makeover for the iconic Hotel John Marshall in downtown Richmond, but so far a full-scale renovation has been elusive for developers.
Undeterred by past hiccups, last week engineers filed permits last week to start renovations on the John Marshall Hotel downtown. The estimated cost of work included $16.52 million for heavy remodeling and another $2 million for a demolition permit.
The two firms leading the development effort, Commonwealth Commercial Partners and Dominion Realty Partners, have been mostly quiet on the project since first announcing their intent at the end of last summer.
Jim McVey, vice president at Commonwealth Commercial Partners, said he had no new details to add about the project in a recent e-mail to BizSense. Michael  Campbell, a principal with Dominion Realty, did not return calls by press time.
According to the permits, Choate Construction of Atlanta will be doing the construction. The permits were filed by an associate of Baltimore-based engineering firm Rummel, Klepper & Kahl.
A project description released by the developers last year said the adaptive reuse project calls for 232 apartments, 30,000 square feet of retail, and 22,000 square feet of meeting and banquet space.
The 90-year-old hotel is located between 5th and 6th streets on Grace Street, an area that has recently undergone significant development including the Miller & Rhoads hotel conversion, the Richmond Centerstage performing arts center, and the new federal courthouse. The John Marshall ceased hotel operations in 1988 and has since been used as a filming location and for a brief period of time housed a restaurant.
Style Weekly reported that Commonwealth Architects last week submitted plans for the project to the city for approval.
Redevelopment of the hotel has had a number of false starts over the last decade. One of most recent stabs at renovation came in 2005 when Hourigan Construction received a light remodeling permit worth $1.2 million but that expired the same year without being completed, according to city permit data.
A website advertising the Residences at John Marshall has been up since 2006.
Recently the hotel has had issues with deferred maintenance. Pieces of the hotel's limestone façade fell onto the city street below in December.
To read a SATIRE story about the hotel, click here .
Al Harris covers commercial real estate for BizSense. Please send story tips to [email protected].