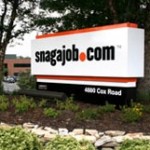 One of Richmond's fastest growing firms is taking a small step back, laying off employees on account of the recession.
In April, SnagAJob.com, which runs a job board that matches hourly workers with jobs (7-Eleven is a customer), let go six employees from the client services department. The company now has about 122 employees, according to a statement in response to emails from Richmond BizSense. That's up from 25 at the beginning of 2006.
The company, which was founded in 1999, said new technology made those six positions obsolete. More specifically, SnagAJob changed systems so that entries that had previously taken days to complete could now be completed in minutes.
The company, which is funded in part by private investors, is growing its sales, which are up 30 percent compared with last year, according to the company. Still, Founder and Chief Executive Shawn Boyer said that the sales expectation had been changed twice this year.
As fewer and fewer companies hire, job posting sites are down by 40 percent, Boyer said.
David Larter is a BizSense reporter. Please send news tips to [email protected]