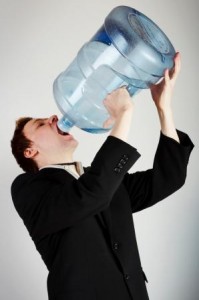 Glug…glug…gone.
A tight city budget means no more water coolers to congregate around for workers at City Hall.
Parched employees will now have to turn to the old-fashioned water fountain to quench their thirst.
The city ended its contract with Diamond Springs at the end of May. The company provided bottled water and coffee services to various departments within City Hall.
The city spent $218,773 with Diamond Spring over the last year, said a city spokesperson.
Mayor Dwight Jones proposed the cut during his budget presentation to City Council on March 26.
"All departments are being encouraged to continue their efforts at economizing, including using the city's own award winning tap water instead of bottled water," Jones said.
The Department of Public Utilities received the 2008 Excellence in Waterworks Operations/Performance Award from the Virginia Department of Health.