The views expressed in Guest Opinions represent only those of the author and are in no way endorsed by Richmond BizSense or any BizSense staff member.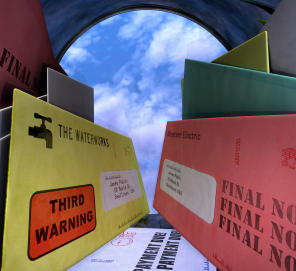 Collecting accounts receivable is a challenge for businesses even when the economy is booming. Today, it has become a matter of life and death for some businesses.
The other day, a business owner told me, "In this economy, the only choice you have is to cut them off!"
But it is a lot more complex than that. One business might have three large customers. Another might have 4,000 small ones. One has to buy and pay for raw materials months before they sell a product. Another receives payment for a product before having to pay for it.
In that sense, collecting receivables is just as important as making sales. You don't use the same approach to sales for every product, and you probably shouldn't for collecting accounts receivable.
Several years ago, a local startup had a bold plan to transform the used auto parts business by supplying used parts bought one at a time from the 8,000 mom-and-pop auto salvage yards to the customers of retail auto parts chain like AutoZone. When growth started to lag expectations, the new company got slower and slower in their payments to their used parts suppliers. At one point, the company was four to six months late on payments. Many suppliers cut the company off, but others continued to provide parts. Some yards were sitting on more than $100,000 in accounts receivable.
The vendors that cut the company off were eventually paid and still supply an occasional headlight or taillight. The ones that stuck with the new company have seen their accounts brought current and today are paid on time for millions of dollars in used parts each year. They are now part of the "Preferred Vendor" program established by one of the largest resellers of used auto parts in the United States.
So you could say that gamble paid off. Big time. Why did they take the risk? The brave salvage yards recognized that the actual amount of money they had at risk was much less then the dollar amount on their books.
Most of the parts they were selling were pulled off cars that would have been crushed and sold for scrap. The real cost of a part sold to the company was the labor it took to process the order and take the part off the car. A headlight sold to the supplier for $80 might only cost the seller $10 to $20 out of pocket.
Rich Reinecke of Career Quest helped the same company with some of its staffing during its start-up phase, and, like the parts vendors, his staffing and recruiting company ended up with a significant balance on its books. Unlike the auto recyclers, Career Quest had to pay its contract employees that were assigned to the company every two weeks. Its receivables represented significant real costs to the company, yet they extended credit also.
Why did he take the risk? Reinecke was supplying help in the accounting area, so he was in regular contact with the CFO of his client. He asked for, and received, regular updates on the company's plans and progress and, while he extended terms beyond the norm, he did manage the account closely. When I brought up this dilemma to him recently, he reminded me, "The key is know your customer's business. Then you will know when to act."
There are other examples. A local IT services firm built up a large balance with the same start-up when they took on a project to develop some key systems for the company. At the end of the project, the company needed some ongoing assistance, but they could not meet the IT firm's terms on the large balance.
Instead, the IT firm offered to convert the large balance to an installment loan with payments the company could afford and to provide continuing services as long as the current charges and the installment payments were made on time. Recently, the owner of the IT firm said the installment loan was paid in full and the company was still a valued customer.
Again, he had made an assessment of the risk and acted accordingly. While he could have cut his client off, that would have put the large balance due at risk since there was no ability to pay it. By acting proactively, he was able to better secure the large balance, give the company a workable payment plan and keep a customer.
These three examples of how three different companies handled their accounts receivable issues with the same customer illustrate that there is no one way to handle tricky receivable issues. They do indicate that assessing the risk, being proactive and remaining flexible are important components of your strategy.
But be warned, assessing risk is a lot harder than it used to be. And it's important to remember that no matter how much you may have done to help a good customer through tough times, bankruptcy courts and secured lenders won't care.
Some widely used payment terms are simplistic and even counter-productive. Offering a discount for early payment is common but it can be expensive and limited in effectiveness. A 2 percent discount can represent 10 to 20 percent off of your net profits and, once the discount date has passed, your customer has no incentive to pay or to buy more products. Many businesses set an arbitrary limit on the number of days a customer can be late with payments and cut them off when they pass the deadline. This solution is simple and easy to manage, but it treats every customer the same and it fails to control the total dollar exposure for any one customer.
One thing that is always important is to be proactive. If you see a customer is approaching the time for the inevitable tough conversation, call them 30 days early and offer them a one-month extension in return for a modest payment and an extension of your contract or to ease the impact of a price increase.
Once your plan is in place, remember that you need to control the message that your new terms will send to your other customers and potential customers. Don't hesitate to use favorable terms as a marketing tool. You can position yourself as a strong partner with your customers in the tough times and they will remember it when times are better.
As the economy continues to bounce along what we all hope is the bottom, just remember that you become an investor of sorts in your customers. If they make it through, you may have many years of business ahead. But if they don't, can you still survive with the loss?