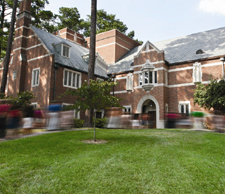 There's a new dean on campus.
At least for now.
The University of Richmond announced Sunday that they have appointed economics chair Robert M. Schmidt to serve as interim dean of the Robins School of Business.
Schmidt has been a professor at the school for 28 years. He will take over July 1 for outgoing dean Jorge Haddock, who took the job of dean at the George Mason University School of Management.
Schmidt's interim appointment comes on the heels of Henry N. Butler's decision to turn down the deanship. You can read more about that here.
Schmidt will serve as dean while the search for a permanent successor continues. For more about Schmidt, check out his official university page.