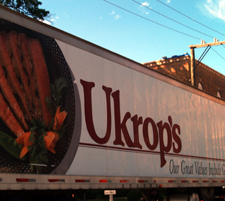 Ukrop's may be for sale.
The website for a grocery trade journal reported Tuesday that a prospectus for Ukrop's has been circulated to prospective buyers, which might include grocers such as Minnesota-based Supervalu and North Carolina-based Harris Teeter.
Jeffrey Metzger, the publisher of Food World, said in an email to RBS that he has not seen the prospectus but that several of his sources have. BizSense has not seen the prospectus.
Ukrop's said in an email that the company does not comment on rumors. A PR spokesperson for Harris Teeter said her company doesn't comment on rumors.
Circulating a prospectus, if it is true, does not imply that a sale is imminent. Companies are constantly assessing their options.
However, in 2006 when rumors of a sale were also hot and heavy, Chairman James Ukrop told the Times-Dispatch, "We can assure you that we have not spoken or talked to a single company, broker, or banker about the possibility of selling the company. End of story."
In the same story, Metzger told the Times-Dispatch that he did not think the company was for sale and that the chatter was just rumors.
He has changed his tune, but a sale is still far from a sure thing. From Metzger's report:

"There is no guarantee that any bidder would pay the premium price that acquiring Ukrop's would likely demand. And even if that price were met, it wouldn't be surprising to see the deal be pulled by the Ukrop family which has a deep emotional attachment to the community and to the company itself, which was founded when Joe and Jacquelin Ukrop opened their first grocery store on Hull Street in Richmond in 1937."
Sales last year totaled $590.4 million, according to Metger.
Several factors make a sale more likely now than three years ago, according to lawyers and investment bankers who talked with BizSense on background over the last few days.
1. The grocery store owned 45.9 percent of First Market Bank but sold that in a deal with Union Bankshares (You can read about that here .) That makes a possible sale of the grocery store much less complicated, according to a local M&A lawyer. And William Beale, the CEO of Union Bankshares and CEO of the new combined bank, said his company calculated how the combined bank would perform even if another grocer bought Ukrop's and closed the First Market Bank branches. In part that was a lesson learned from a deal with Fas Mart.
2. Ukrop's is facing new competitors and losing market share. Ukrop's currently has 17.58 percent of the Richmond area's grocery market, according to Food World. That's down from 40.89 percent in 2001.
The company may determine that now is the optimal time to cash in. New entrants to the local scene, like Trader Joe's, Whole Foods and Fresh Market are taking some of the high end shoppers, especially in the lucrative far West End and Short Pump area. Meanwhile Kroger, Food Lion and Wal-Mart are siphoning off some of the low-end customers. Ukrop's will soon have to battle Harris Teeter in Williamsburg, where Teeter will be opening a new store in November. There is another Harris Teeter in Charlottesville and more in Northern Virginia. .
Also of note: BizSense received multiple reports that Harris Teeter had applied for ABC licenses at 29 locations around Richmond, but ABC spokesperson Jennifer Farinholt said that Harris Teeter only has a few pending applications in Northern Virginia and Virginia Beach—none in the Richmond area. Ruddick Corporation, Harris Teeter's parent company, did not have any licenses pending either.
Farinholt said they had received numerous inquires about pending ABC applications for Harris Teeter.
Click here to watch a solid clip from CBS 6's Mark Holmberg assessing the back-story to today's news.  His commentary is about a minute into the clip.
Aaron Kremer is the BizSense editor. Reporter Al Harris contributed to this story. Please send news tips to [email protected]