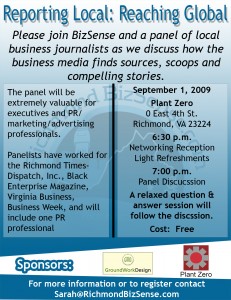 Press in a local or national outlet can make a business and catalyze growth. Please join BizSense and a panel of local business journalists as we discuss how the business media finds sources, scoops and compelling stories. Moderated by BizSense Editor and Founder Aaron Kremer, the event is intended to help small-business owners and public relations and marketing professionals learn how the business media thinks, and how their companies can get more press.
Panelists include:
•    Pamela Feibish, Former Business Editor, Richmond Times-Dispatch
•    Robert Powell, Editor, Virginia Business magazine
•    Sean Ryan, former business reporter at Inside Business and current PR professional at the Hodges Partnership
•    Maya Smart, Richmond-based magazine journalist who writes for Black Enterprise, Black MBA and a former staff writer at Crain's Cleveland Business
•    Phaedra Hise, a Richmond-based freelance writer who regularly contributes to Inc. and Fortune.
Moderator: Aaron Kremer, founder and editor of Richmond BizSense. Aaron has also written for TheStreet.com, Slate.com, the Los Angeles Times, Virginia Business and the Times-Dispatch.
The event is Tuesday, Sept. 1 at Plant Zero. There will be a networking reception with light refreshments at 6:30 p.m.  The panel discussion will begin at 7 p.m. and be followed by a relaxed question and answer session.
This event will be extremely valuable for executives and PR, marketing and advertising professionals.  There is no cost to attend.
The event is sponsored by Plant Zero & GroundWork Design.