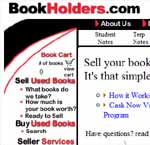 A new shop in the heart of VCU is rewriting what it means to be a bookstore.
Bookholders, at 720 W. Grace St., buys textbooks from students at one of five locations and then uses the Internet to network colleges and students across the country to find buyers for their customers' books.
The store might also start paying students for their notes and then selling them to other students.
All books on the premises are stored in the back warehouse until they are ready to be shipped, leaving the store with empty walls lined with computers.
Each location packages and ships their own merchandise, which is sent out daily to buyers across the United States.
"We kind of have our own mini-post office," said James Woody, manager of Bookholders' Richmond location.
"I think students are looking for other options," Woody said. "We kind of combine your online business with your commercial retailer."
The new shop will compete with the school's bookstore. Barnes and Noble booksellers manages VCU's bookstore along with over 600 other university bookstores. Consequently, they control the buying and selling of textbooks for more than 4 million students.
Bookholders has two ways for students to sell back their old textbooks, one of which gives students cash in hand at a fixed rate. The other option is called the Advantage Program, in which the student drops off the book and asks Bookholders to sell the book at either the suggested selling price or at whatever price the student chooses.
Bookholders takes a 15 percent commission on all the books they sell, which leaves the student with 85 percent of the sale. According to Bookholders.com, an average new book bought by a student at $89 could be sold back to Bookholders using the Advantage Program to receive a "you get" price of $48, which is about 50 percent, whereas other used bookstores would only give $19.
University of Maryland student John Verde and two silent partners started the company in 1999. They opened the first Bookholders store in College Park near the university.
At the Maryland store, Bookholders has a program called "Terp Notes," which sells class notes. Woody said he might add a similar program at the VCU location. The program pays students up to $20 a class for daily notes in a particular course. Other students can then buy the notes, a whole set for $26.95, to study from.
Students also have the opportunity to become regular "note takers," meaning they take notes for Bookholders for every class in their schedule.
Terp Notes has a following among Maryland students, with a list of class notes from more than 25 subjects.
However, Bookholders does not vouch for the quality of the notes, only that they are "clearly typed or handwritten," according to the website.
As far as starting a new location in Richmond, Woody said that the biggest challenge is not beating the competitor's prices, but getting the word out to students about Bookholders.
Universities, including VCU, tend to recommend that students buy their books from the university store, leaving competitors such as Bookholders with only word of mouth.
The VCU bookstore has a policy against commenting directly to the media.
Bookholders hires about 20 college students to work at each of their locations.
Kaitlin Mayhew is a BizSense reporter. Please send news tips to [email protected]